Vietnam is a country of immense cultural diversity, influenced by several countries, largely because of its troubled history of wars and different settlements. Tourism offers options for those who like cities, nature, history, culture, gastronomy, etc…
Many people do not know this, but Vietnam is a VERY touristic country. According to the Ministry of Culture, Sport and Tourism of Vietnam, in 2017, the country received almost 13 million international tourists. Just as a reference: Brazil, with an area 25 times bigger, had half of this number.
We hired the travel agency Terramundi to Vietnam and other countries in Southeast Asia. It was a "hand in hand" because they have a lot of experience with this kind of script, and already they put us with great guides and in excellent hotels. In addition, we had the convenience of always having a private transport waiting for us, without having to worry about getting a taxi, getting someone to speak English, etc.
For those who prefer to travel on account, it is also totally viable. In the next posts I will tell you how was our experience in each of the places we visited. But first, let's get to know a bit more about Vietnam.
Click the links below to go directly to the next posts:
About Vietnam
Vietnam declares itself a Socialist Republic. In fact, it functions as a capitalist economy with strong state intervention. It is not uncommon to see stories about the arrest of journalists in Vietnam who published some content that did not please the government. Despite this, it is clear to see that the country has an open market today. The major cities, Hanoi (capital) and Ho Chi Minh City (formerly Saigon), exhibit large shopping malls and several international designer stores.
Fortunately the economy and the quality of life of the Vietnamese people have improved every year. Tourism itself has helped a lot in creating new jobs, and raising household incomes. We heard this from various locals we talked to.
History
Vietnam has suffered greatly from wars and exploitation over the years. For about 1000 years, the country was dominated by the Chinese dynasties. Although it became independent at the beginning of the second millennium, for centuries civil conflicts and political struggles among the local dynasties marked the country's history. In the 19th century, with French attacks, Vietnam, as well as Cambodia and Laos, became a colony of France, forming French Indochina, which lasted about 100 years.
In 1941, during World War II, Vietnam was invaded by the Japanese. It was also the year in which the Viet Minh national communist movement, led by the revolutionary Ho Chi Minh, emerged. With the end of the war in 1945, Viet Minh occupied Hanoi and proclaimed the Democratic Republic of Vietnam. Nevertheless, France continued fighting for the command, which generated the First War of Indochina.
In 1954 a ceasefire was negotiated, and French Indochina was dissolved. Vietnam was divided into two states, the Communist North Vietnam under the command of Ho Chi Minh; and capitalist South Vietnam, which had the support of the United States. South Vietnam has gone through a number of political conflicts, including assassinations, repression by the government, and a coup d'état. So, North Vietnam began to move forward in the attempt to unify and create a single communist state.
The Vietnam War lasted until 1975, and became one of the bloodiest conflicts of the twentieth century. There was strong participation of the United States supporting South Vietnam. The USA was in the middle of the Cold War and were determined to avoid the creation of another Communist State. Despite all the American military power, South Vietnam lost the War and, on April 30, 1975, occurred the Fall of Saigon. Ironically, the city that was (and still is) the center of capitalism within Vietnam was named after the communist who overthrew it.
In the next 10 years, Vietnam lived through the period known as Bao Cap, which was a kind of subsidized economy marked by the collectivization of large properties such as farms and factories. Inflation soared, and the situation became chaotic. Millions of people deserted the country desperately, mostly in small, simple boats, and became known as 'Boat People'. Many died trying to reach other Asian countries.
In 1986, a new leadership emerged, and several free market reforms were implemented in a process known as Doi Moi ("renewal"). Gradually, the economy began to grow, and to attract foreign investment, in a transition from a state economy to a market economy.
General info
Vietnam is located on the east coast of the region called Southeast Asia. The climate is tropical, with high humidity level. The problem of humidity is that it sometimes transforms a temperature of 26ºC into a temperature sensation of 36ºC. The seasons are usually classified as 'dry' or 'rainy'. The rainy season runs from May to September.
The language of the country is Vietnamese. It is not common to find people who speak English, with the exception of travel guides and other people who are related to tourism in some way. It is relatively common to find people (usually older) who speak French because of the period of French colonization.
Most of the population is Buddhist, but we have not seen much cultivation of religion. I believe that many people identify with Buddhism but do not practice it. There are also other religions, such as Catholicism itself, but practiced by minorities.
The currency of Vietnam is the DONG, which is extremely devalued. One dollar equals more than 22,000 dongs. For this reason, all prices start from 1000 dongs. Even so, I found everything extremely cheap. It was the cheapest country in Southeast Asia we know.
We get confused easily with currency conversion. On our first day in Vietnam, we made a big mistake of tipping a hotel employee in a hurry without thinking. We gave him 1000 dongs, with the impression of being a good tip. Only later we realized that this is not even USD0.05! Total embarrassment!
To visit Vietnam, you must have a passport with a minimum validity of 6 months, and with at least 1 blank sheet. The visa is issued at the airport, at international arrival, for a fee (in 2017 the value for Brazilians was USD 25.00) and 2 photos passport size (5x7) per person.
Regarding food, I confess I was a little afraid before going after hearing some stories of people who have gone ill in Southeast Asia. To avoid this type of problem in these countries, the main thing is not to take tap water and avoid asking for drinks with ice. We also avoid natural juice and street food, usually choosing more "cleaner" restaurants. For the rest, just enjoy! The gastronomy in Vietnam is delicious and very different from anything we've seen elsewhere in the world. For those who like finer restaurants, you can check out some suggestions on The Snob's List website.
Travel itinerary in Vietnam
We made a tour to know the main places of Vietnam, from North to South. We started in Hanoi, which is the current capital, and the main point of departure for the beautiful Ha Long Bay. Then we continue to Hue (the former capital), full of history. Then we went to Phong Nha where there is the National Park with some of the largest caves in the world. The last places we visited were Hoi An and Ho Chi Minh (better known by the old name Saigon).
The main transportation we used to move from one city to another was the plane. Distances are relatively large, and there are several low-cost airlines operating in Southeast Asia, such as AirAsia and JetStar. Vietnam Airlines, the state-owned airline, is the nation's leading airline and is excellent. For those who prefer, many routes can also be made by bus or train.
Besides the cities that we visited, we are sure that there are many more to go! Vietnam is surprising, but unfortunately you never have time to know everything. Vietnam is one of the countries I liked the most and I can't wait to go back.
   

Things we loved most about our trip to Vietnam:

The opportunity to know more about the history of this country told by its own people;
All the natural beauty, such as the beautiful Ha Long Bay, and the lush forests on the western side that we met on the way to the caves;
The gastronomy, so different and delicious;
The Vietnamese people who constantly showed a genuine joy on receiving people from all over the world and seeing their country admired by foreigners.
Did you like this post? Share it with your friends: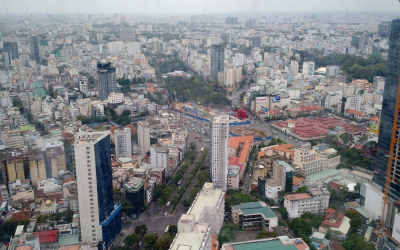 Saiba o que fazer na cidade de Ho Chi Minh (antiga Saigon), maior cidade do Vietnã, e arredores.
ler mais