One place I definetly think is worth visiting in Brazil is Fernando de Noronha. Fernando de Noronha is a volcanic archipelago situated 350km from brazilian northeast coast.
The archipelago has been discovered in the 1500's but for many years it had been used as a prison for outcasts. Nowadays it is one of the most valued touristic destinations in Brazil, mainly because of its protected marine park and unspoiled beaches. In 2001, Fernando de Noronha was declared a Natural Heritage of Humanity by UNESCO.
Fernando de Noronha has some of the most beautiful beaches in Brazil, and it is an amazing place to get closer to the marine life. Because of its protected park, it has became an ecological sanctuary for marine life, and its biodiversity is incredible. That also makes it a great destination for divers and snorklers. 
But it is worth mentioning that Noronha is not that kind of place one could stay at a resort, walk a few meters to the beach, or have a drink by the pool while watching the sea. Fernando de Noronha has a beautiful topography, full of hills and slopes, and its beauty demands to be explored.
Each place in Noronha offers a different landscape. It's worth spending an entire week on the island to get to visit most of the beaches – and repeat the ones you liked the most.
Where to stay in Fernando de Noronha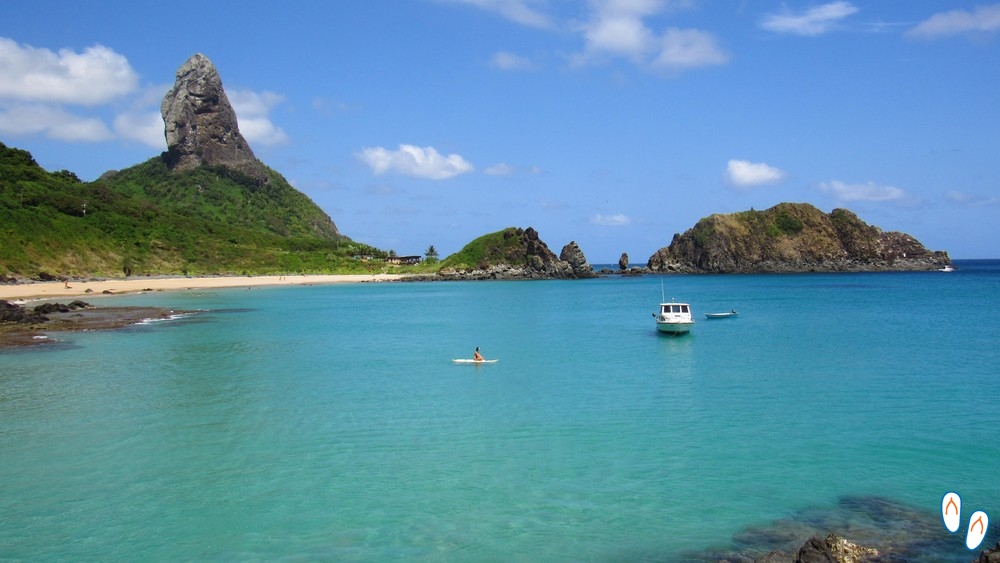 Landscape in Fernando de Noronha: Praia do Cachorro, Praia do Meio and Morro de Fora
Fernando de Noronha is definetly one of the most expensive touristic destinations in Brazil. In Noronha you may pay the price of a great hotel for staying in an average one. Despite that, Noronha locals live a very simple life, since the cost of living so far from the continent is never cheap.
The good news is that, nowadays, there are options of different price ranges, from hostels and family houses to top hotels, such as Maria Bonita, which is very popular. There's even the option to book an AirBnb.
Most of the inns are in villages like Vila dos Remédios, Floresta Nova, Floresta Velha, or Vila do Trinta. These villages are very close to each other. It's also where most restaurants are also located, and close to Projeto TAMAR, a Brazilian conservative iniciative that have much contributed to the recovery of sea turtle population in Brazil.
We chose to stay at Pousada Monsier Rocha, which we chose by "cost-benefit" criteria. It's a simple hotel, but with clean and organized accommodations.
My recommendation is that you stay in one of these 'villages', especially if you want to visit several beaches. If you are going to use the bus, it's worth staying close to the main highway, where the buses pass.
Transportation in Fernando de Noronha
For those visiting Fernando de Noronha for tourism, the main options you have for transportation around the island are: to rent a buggy or a motorcycle, to take a cab, regular bus or to rent a bike.
Option 1 – Renting a buggy or a motorcycle
The most convenient option is to rent a buggy. But convenience always comes at a price. The rates are around R$290/day (2008), while the motorcycle daily rates are around R$170. Gasoline is also not cheap on the island.
In my honest opinion, renting a buggy or a motorcycle is not worth it. With the daily rate you pay, you can take several taxis a day.
Option 2 – Taking the bus
The bus transport network exists on the island mainly to serve the population living in Noronha. Locals do not have to pay for the ticket. For tourists, the fare costs R$5 a trip, but it's still a good option for those who want to save money. Buses cross the island, passing through the main highway at 30-minute intervals. There are 2 vehicles that leave from Porto to Sueste and vice versa, until 10 pm.
The downside of depending on the bus is the unpredictability of its schedule. What should be a regular departure every half hour can end up being quite delayed, for example, when 1 of the 2 buses breaks, or one of the drivers miss work. This makes waiting tiring, and makes you waste a free time that you could be using to enjoy the beaches.
Option 3 – Rent a bicycle
Renting bicycles is certainly an option, but riding around the island with regular bikes requires physical preparation. There are many slopes, cobbled streets and dirt roads. For this reason, many people choose to rent electric bicycles, which in addition are usually in better condition than the regular ones. The rental of electric bicycles in Noronha costs around R$60/day, but the bicycles need to be returned until 6 pm to be recharged during the night.
Option 4 – Taking the cab
Finally, there are the taxis. The rides are calculated according to the origin/destination, and in general cost from R$20 to R$40 (2008). You do have cellphone signal to call a taxi practically from any point on the island.
On the way back to the city center it's always easy to find someone and "split" the ride. We did a "bus + taxi" combo. Basically, when we left the hotel in the morning, we tried to take the bus – especially if the destination was further away, as in the case of Sueste. On the way back, we would usually take a taxi.
Visitor fees in Fernando de Noronha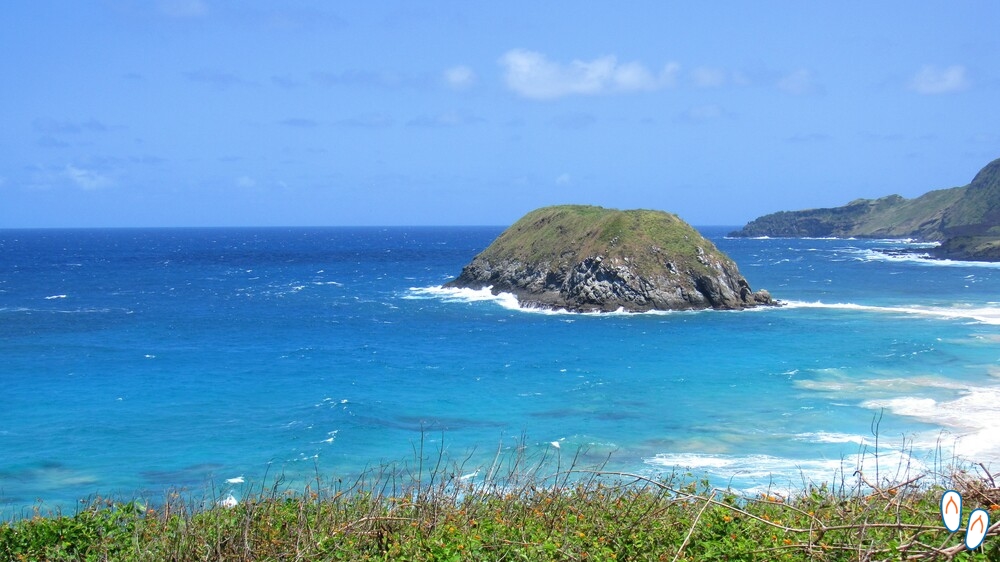 Praia do Leão, part of the National Marine Park (PARNAMAR) area of Fernando de Noronha
There are 2 fees that you usually pay to visit Fernando de Noronha: the TPA (Environmental Preservation Fee) and the ticket admission for the National Park.
TPA is charged per day of stay on the island and can be paid upon arrival in Noronha, or in advance through bank slip. The daily fee starts at R$73.52, but has a slight reduction from the 6th day (values for 2019). Check the updated prices chart here.This fee is the biggest complaint of the island's inhabitants, because it's that money that "nobody knows where it's being invested in".
The admission to the National Park is mandatory only for visits to National Marine Park (PANAMAR) area, managed by Eco Noronha. But the National Marine Park involves several visitation points on the island, such as Sueste, Sancho and Atalaia.
I highly recommend the visitation and I consider it is totally worth to pay the fee to the National Park, since it's a cost that is later reverted in improvements and conservation of the park. The ticket cost is R$222 for foreigners (2020 prices) and is valid for 10 days. It can be purchased in advance, but it needs to be picked up at the ICMBio Visitor Center (in front of Projeto TAMAR) or at one of the 3 PICs (Information and Control Post) on the island. PICs are checkpoints on the beaches of Sancho, Sueste and Leão.
What to do in Fernando de Noronha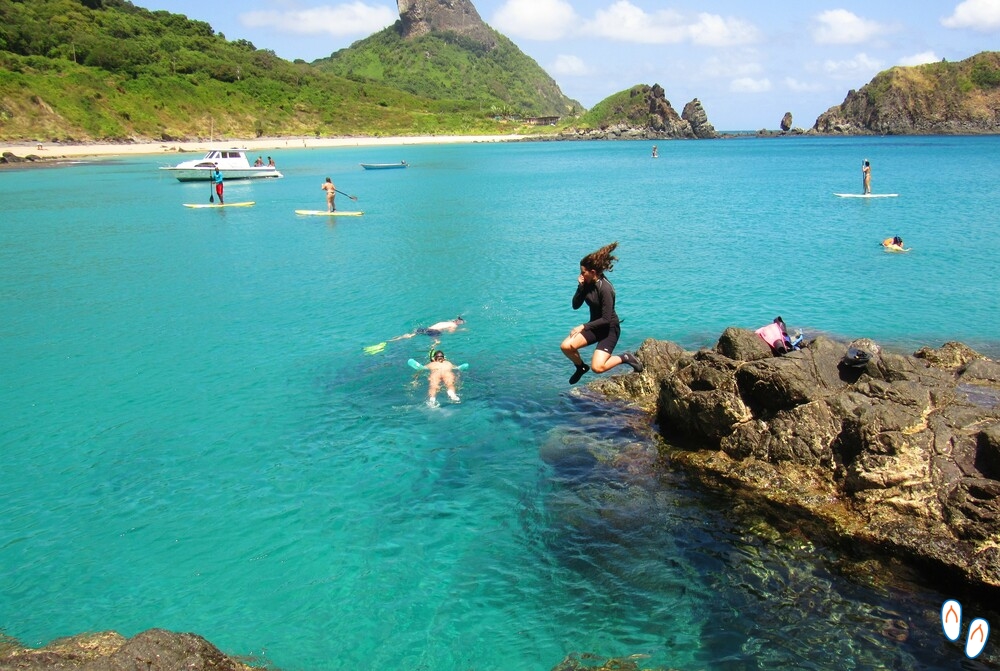 Diving in the calm sea near Praia do Cachorro
Projeto TAMAR
When talking about an archipelago that is 354km from the coast, touristic, inhabited, and turned into a sanctuary of marine life, conservation is undoubtedly a very important topic.
Projeto TAMAR has been in Fernando de Noronha since 1984. Fortunately, the achievements of this project in Noronha, as well as in other locations in Brazil, are many.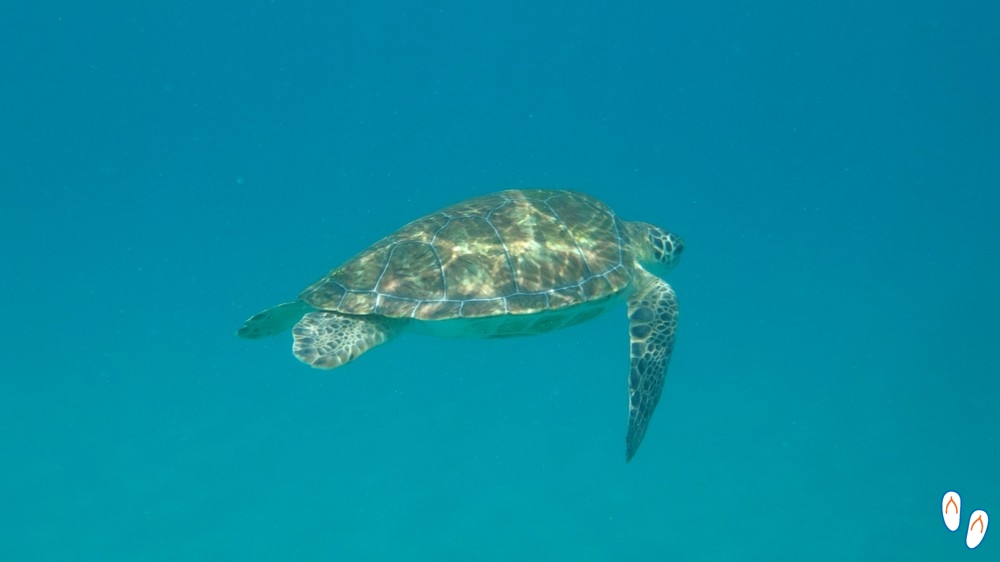 Green Sea Turtle, one of the species monitored by Projeto TAMAR
Sea turtles, with their complex life cycle, were suffering a drastic reduction in their population in the 1980s, which put all species in risk of extinction. After decades of studies and work with communities, the trend has finally turned to recovery for most of these species.
In Fernando de Noronha, Projeto TAMAR has an informative open-air museum and a space for daily (and free) lectures (only in portuguese) on different topics. It is worth visiting! Check the schedule of the lectures here.
Hiking trails in Fernando de Noronha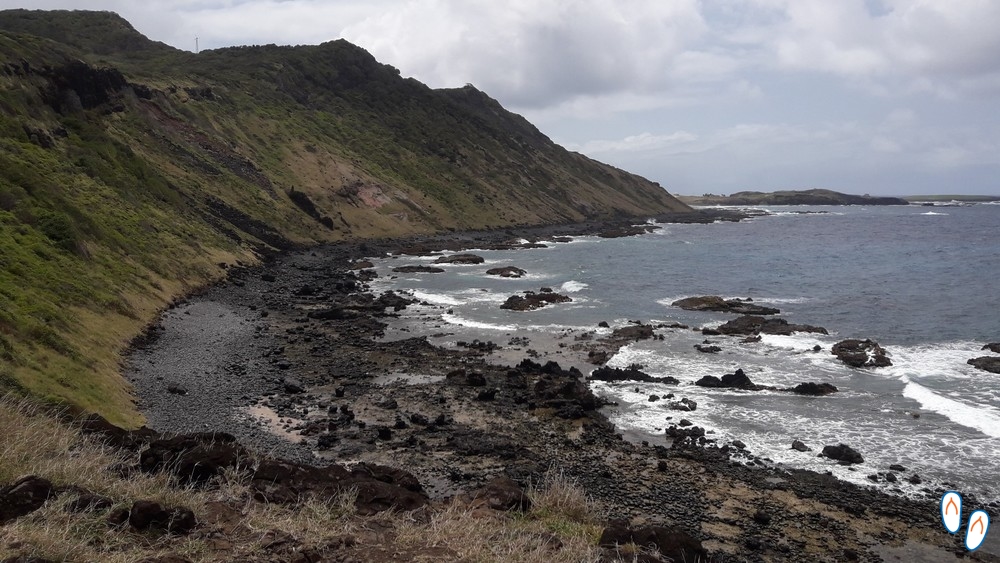 Volcanic landscape seen from the Atalaia Longa trail
The National Park has 5 hiking trail options that need to be booked in advance and have a very limited number of visitors.
Scheduling must be done at ICMBio Visitors Center, in Vila do Boldró. My recommendation is to make the bookings on the day of the arrival, but you cannot book with more than 6 days in advance. The National Park's hiking trail options are:
• Morro São José
São José is one of the secondary islands that form the archipelago of Fernando de Noronha. The route to this island, which is a few meters from Air France Point, at the northeast end of the main island, can be done by swimming, at high tide, or by rocks, at low tide. Arriving at the Morro São José, there is a natural pool. If you choose to go there by swimming, it is required to be accompanied by a local guide, and be equipped with mask, snorkel and swimming fins. The route is usually done in approximately 20 minutes.
• Abreus
Abreus trail is a 2km round-trip light/intermediate walk that goes from Sueste beach to a natural pool on the outside sea slope. Guide accompaniment is not mandatory.
• Pontinha-Caieiras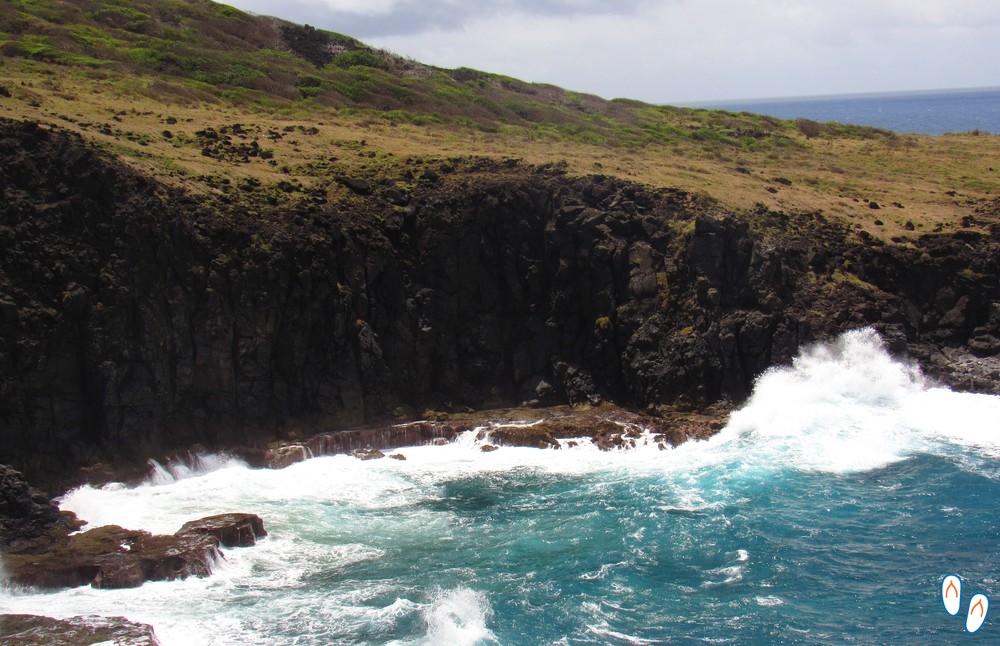 Slope of the island with the sea crashing hard on volcanic rocks
The 3.7km trail in Pontinha-Caieiras gives access to 2 natural pools, as well as a beautiful view of Fernando de Noronha hillside. It starts at Vila dos Trinta and ends near Porto Santo Antônio. This same route is part of the Atalaia long trail, along with the trail that gives access to the Atalaia natural pool (Atalaia short trail). Guide accompaniment is required.
• Atalaia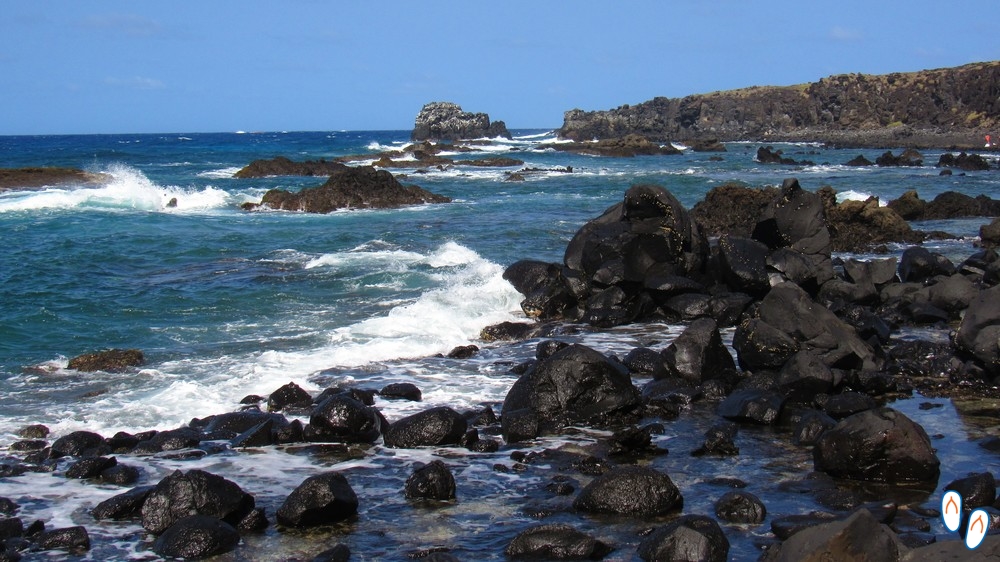 Atalaia trail is the most popular one in Fernando de Noronha. It must be made with a guide accompaniment and if you wish to do it, I recommed it to book it on the day of your arrival. There are 2 versions of Atalaia trail : the long trail and the short one. Atalaia's short trail is 1.5km long and leads only to Atalaia's natural pool.
The long trail basically joins Atalaia and Pontinha-Caieiras trails. It was the trail that we chose to do. It's approximately 4 to 5 hours long. The 3 natural pools that are part of this route are: Atalaia, Pontinha and Caieiras.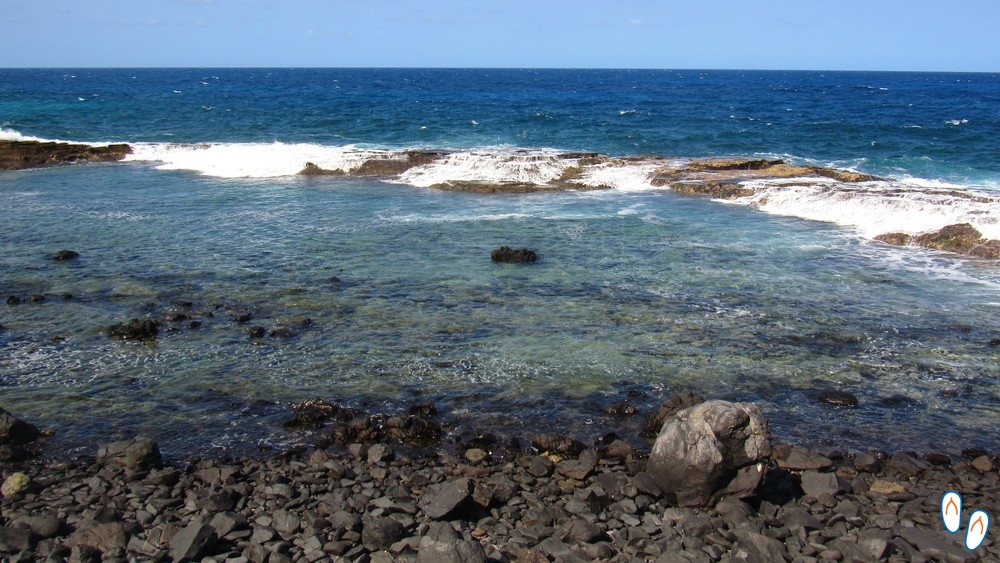 Example of a natural pool that forms at low tide on the island's sea coast
All 3 natural pools, but especially Atalaia, have a huge diversity of marine life. Its bottom is full of corals and other species, and the formations that isolate it from the open sea make the pool a true sanctuary. It is possible to find lobsters, octopuses, moray eels, small sharks, among several other species.
The pools are very shallow, and the only activity allowed is floating, with a mask, snorkel and life jacket. The pool ecosystem is fragile and therefore it is not allowed to touch the bottom. Fluctuations can only be made during low tide. The local guide will try to program the trail according to the tide schedule.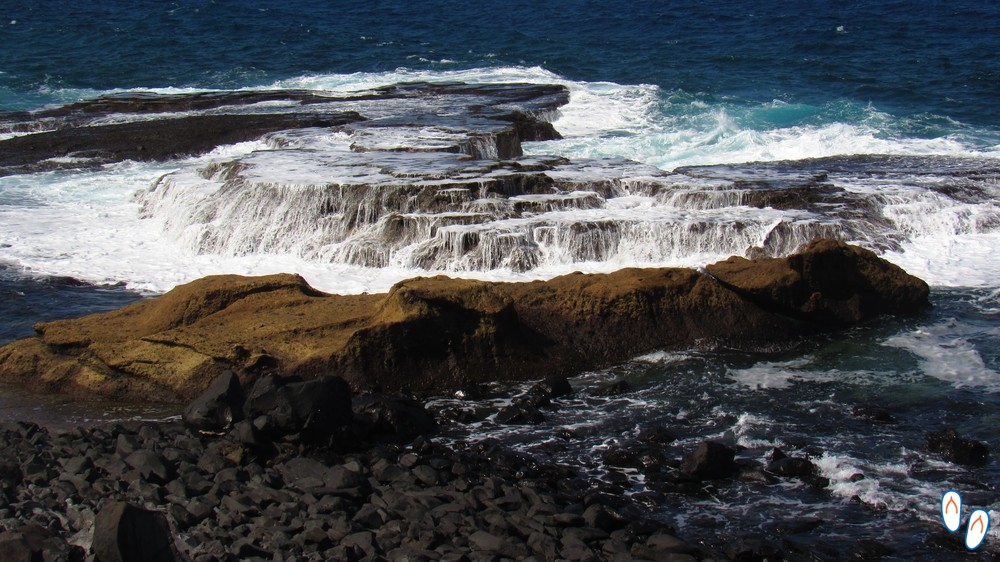 Atalaia Trail (long) – The same landscape can be seen on the Pontinha-Caieiras trail
In addition to the natural pools, however, Atalaia Trail has another beauty that many people don't talk about – the island's topography. Fernando de Noronha is a volcanic archipelago. But it was only by walking the Atalaia Trail that we were able to see this exotic side of the island. During the trail, the visitor can see several slopes of volcanic stones. It was unthinkable to me this type of landscape in Brazil. It looked a little bit like places as Scotland, Norway or Iceland. It's very beautiful!
• Capim-Açu
Capim-Açu is the longest and hardest trail in Fernando de Noronha. It's a hiking trail that crosses the National Park, starting at PIC Sancho and ending at Praia do Leão. The trail is 9km long, passing through the Capim Açu cave, some natural pools and beautiful viewpoints with privileged views of the island. The accompaniment of a guide is mandatory.
Trilha do Piquinho
Another very popular trail in Noronha, but not a part of the National Park is the Piquinho Trail. Piquinho is the mountain right next to Pico, the highest point on the island. A good option is to climb Piquinho in the late afternoon, to watch the sunset from up above. It's a short but very steep trail with some challenging parts. I recommend doing it with a guide.
Free diving (snorkeling) and scuba diving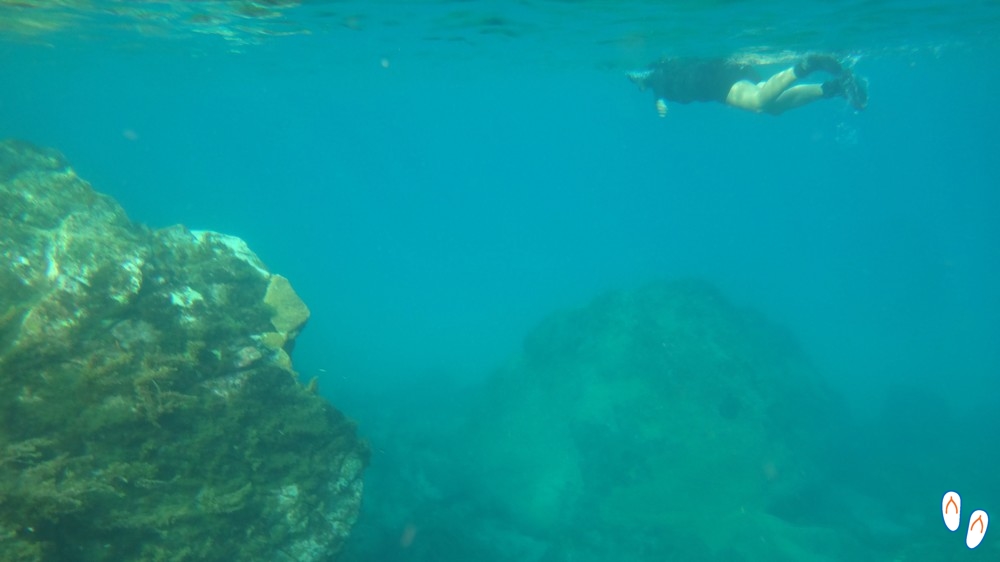 Free diving with mask and snorkel
In the months of calm sea, the visibility of the sea in Fernando de Noronha is exceptional. Fernando de Noronha was once considered the best scuba diving destination in Brazil.
The scuba diving is really amazing. Noronha offers the possibility of scuba diving on the high seas (leaving from a boat) but also close to the coast, leaving from the beach. I will detail the experience we had with this type of diving below.
But for many who are not comfortable with a cylinder several meters below the surface, snorkeling is also an excellent option. We took our own snorkel kit from home, but there are several places on the island where you can rent this kind of equipment at reasonable prices.
We did snorkel on just about every beach we visited. With good visibility, you may see a lot of marine life.
Those who are not used to this activity may also prefer to wear a life jacket and flippers. But always check the sea and wind conditions before exploring it. And preferably, always leave accompanied.
Scuba diving in Porto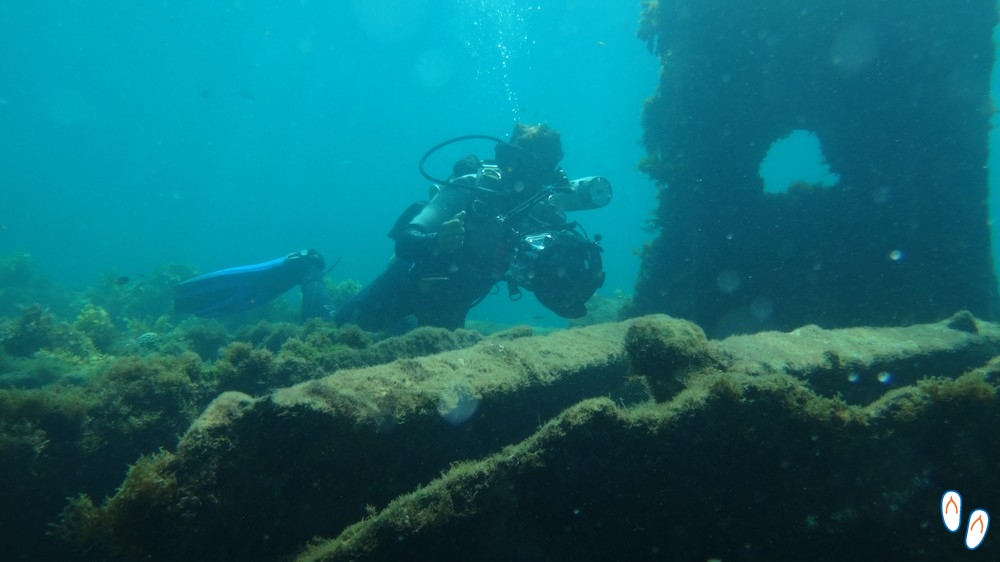 Exploring the wreckage of sunken ships near Porto Santo Antônio in scuba diving
Although I love snorkeling, scuba diving is a completely different and fascinating experience for those who are able to enjoy it.
Our diving experience in Fernando de Noronha was at the shipwreck, at Praia do Porto. The advantage of this dive is that the departure is from the beach itself, and so, the descent to the bottom is naturally gradual. For those who are not certified divers, can still do this dive, but will have to perform some practical exercises in the shallow before the actual dive.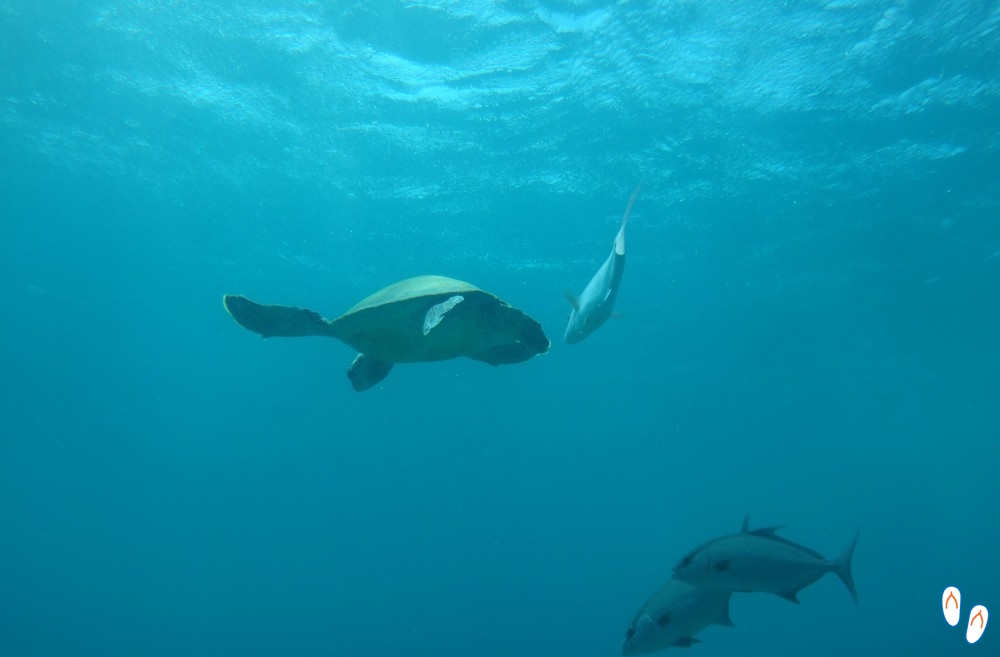 The experience of diving in the shipwreck in Noronha was excellent. I would definitely recommend to anyone who enjoys diving, even for beginners. At a certain point during the dive, we could even watch dolphins swimming over our group.
The beaches in Fernando de Noronha
Noronha has about 12 main beaches, each with its own attraction. It is worth staying at least 7 days on the island to get to know most of them. The first major classification of these beaches is if it's in the 'inside sea' or the 'outside sea'.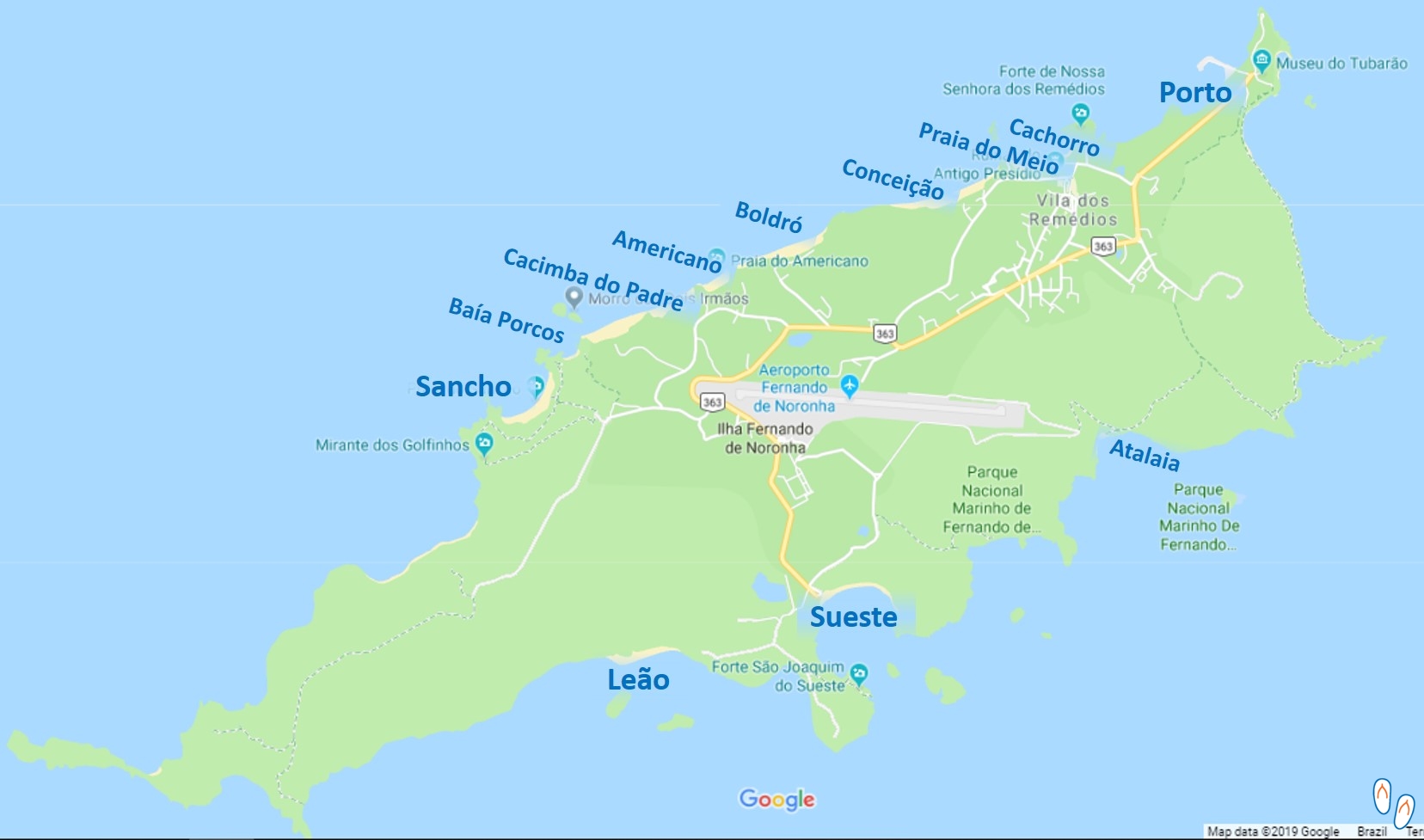 Map of Fernando de Noronha
The inside sea beaches are the ones located on the north side of the island. We can say that those beaches are (slightly) turned to Brazil's coast. They are: Porto, Praia do Cachorro, Praia do Meio, Conceição, Boldró, Praia do Americano, Cacimba do Padre, Baía dos Porcos and Praia do Sancho.
"Inside sea" at Praia do Cachorro in August – calm as a swimming pool
The outside sea beaches are the ones located on the south side: Praia do Leão, Sueste and Praia do Atalaia.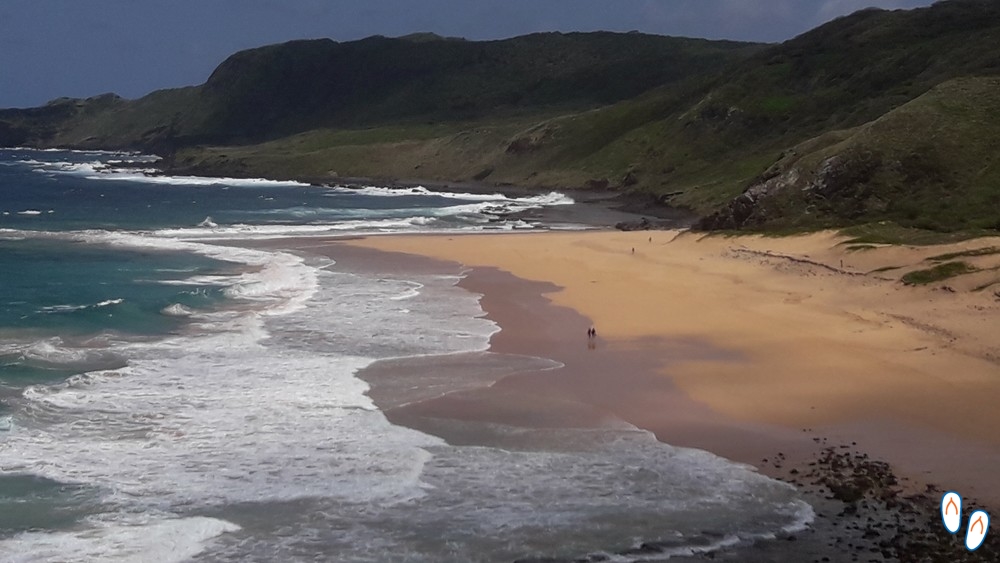 "Outside sea" at Praia do Leão in August
There is a big difference in the calmness of the sea when you compare the beaches of the inside and the outside sea. From July to September, the 'inside sea' is usually super calm while the 'outside sea' experiences waves and more agitated waters. But from December to February, the situation is the opposite. We got to visit Noronha in August, when the 'inside sea' beaches were calm, pratically no waves. Particularly, I prefer this option. The downside is that we were unable to enjoy Sueste, a particularly good place to snorkel.
Praia do Meio – Praia da Conceição – Praia do Cachorro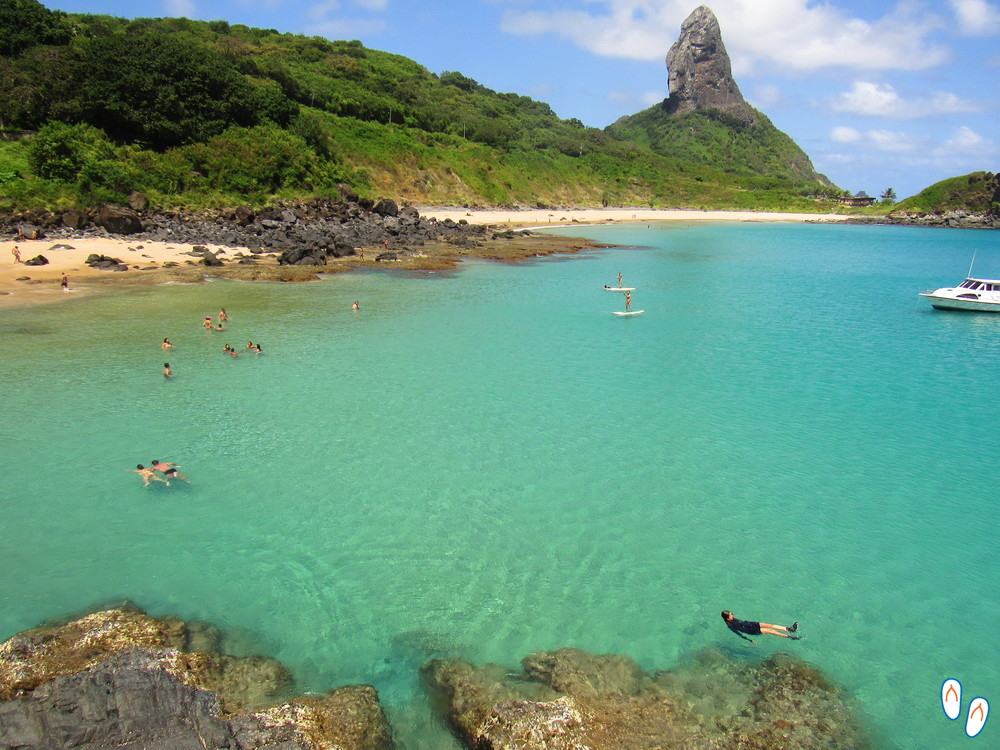 Swimming back to Praia do Cachorro after walking on the rocks to Buraco do Galego
The trio of beaches Praia do Meio – Conceição – Praia do Cachorro are very close to Vila dos Remédios, so you can easily go on foot.
From our hotel in Vila dos Trinta, we just crossed the highway and walked another 800m to reach the beach. The 'villages' are at the top of the hill, so the way to the beaches is all downhill, mostly through a small cobbled street.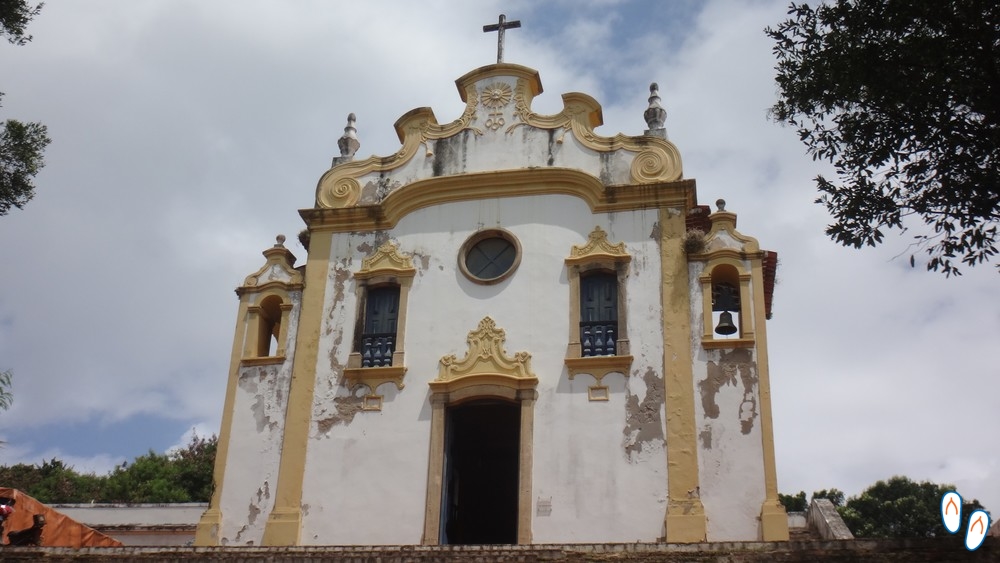 Nossa Senhora dos Remédios church, Fernando de Noronha
On the way to the beaches, you'll see some historic buildings and ruins such as: Palácio São Miguel, the Nossa Senhora dos Remédios church and the ruins of the Ancient Prison!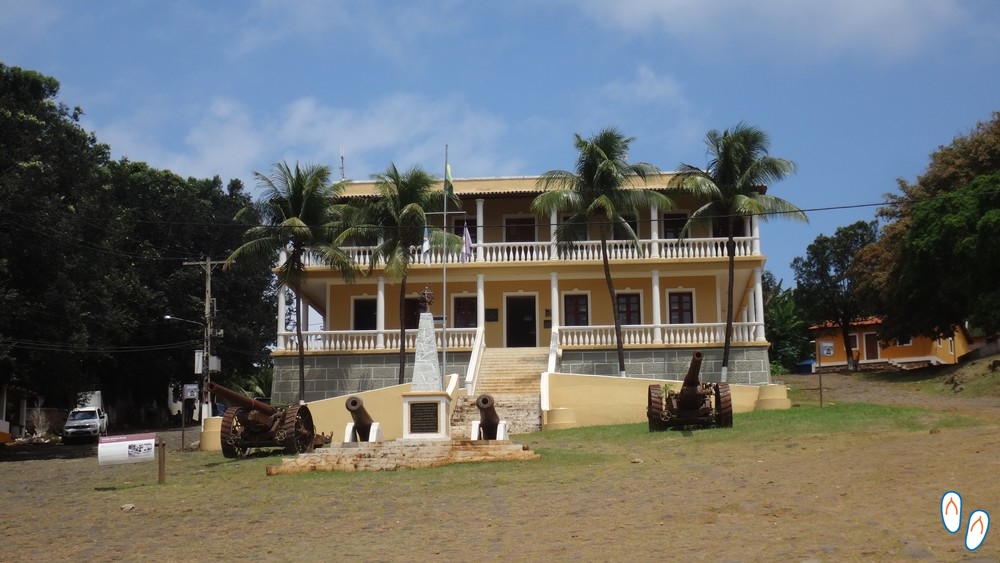 Palácio São Miguel, Vila dos Remédios, Fernando de Noronha
Praia do Meio / Morro de Fora / Praia da Conceição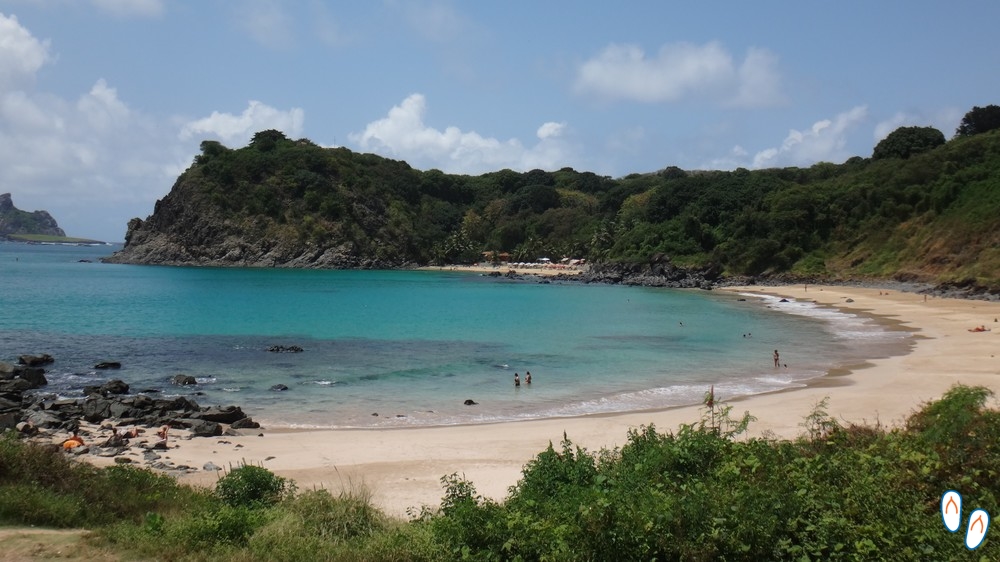 Praia do Meio, Fernando de Noronha
We started the day by visiting Praia do Meio. With a completely clean sea and no waves at all, we threw ourselves into the water with a mask and snorkel and just went swimming. Right in the shallow many colorful and different fish can be seen – an incredible experience that takes no effort to achieve it.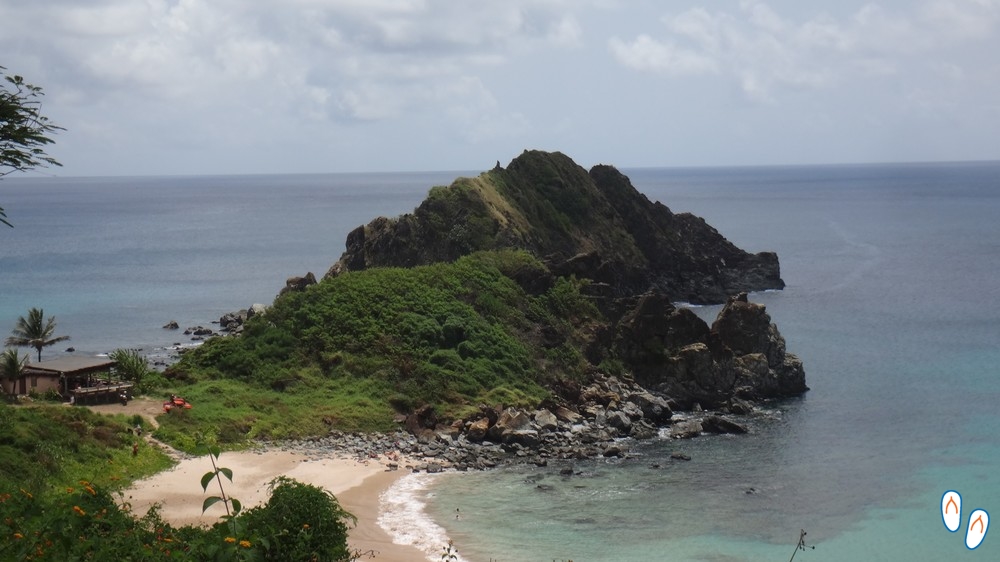 Morro de Fora, that divides Praia do Meio and Conceição beaches
We decided to swim around Morro de Fora, a small hill that divides Praia do Meio and Conceição beaches. You realize that you are getting deeper when you see the sandy bottom getting farther and farther away. But still, we got full visibility – it was incredible! We even spotted some sea turtles on the way. After swimming for a few minutes, we arrived at Praia da Conceição.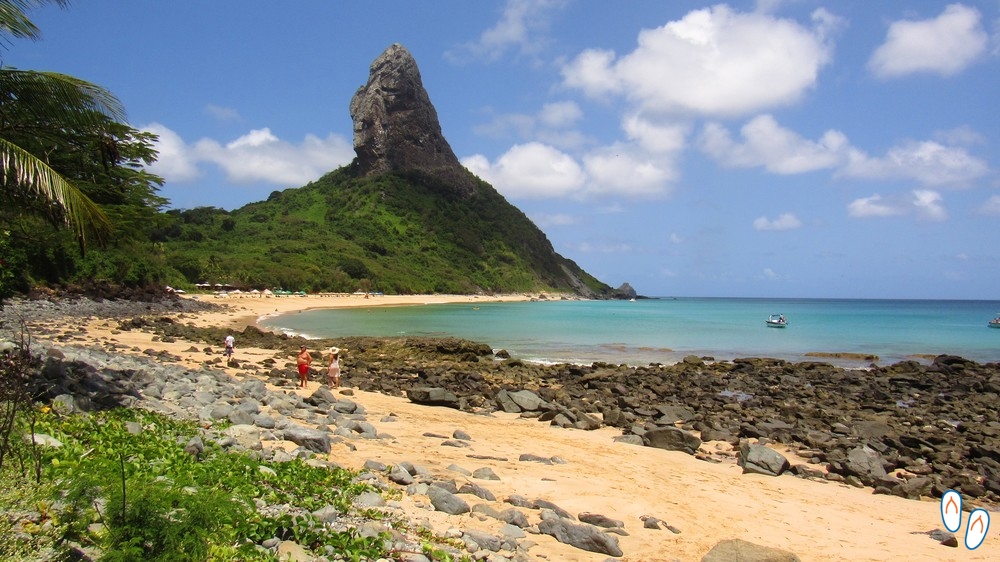 Praia da Conceição, Fernando de Noronha
At Praia da Conceição, the sea continued to look like a "swimming pool" full of marine life. We spent a few more hours swimming there. Praia da Conceição is also a great place to watch the sunset.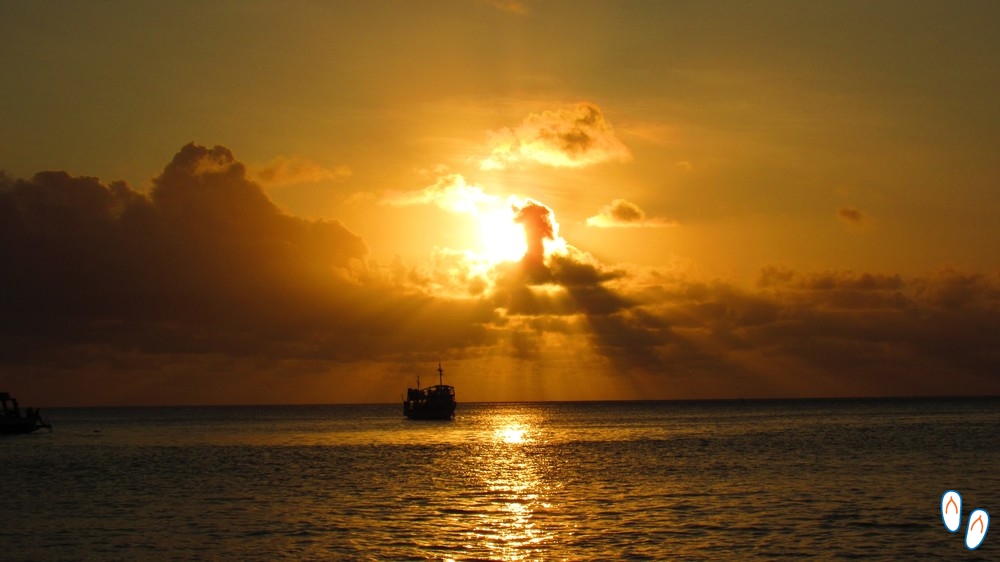 Sunset at Praia da Conceição
Morro de Fora natural pool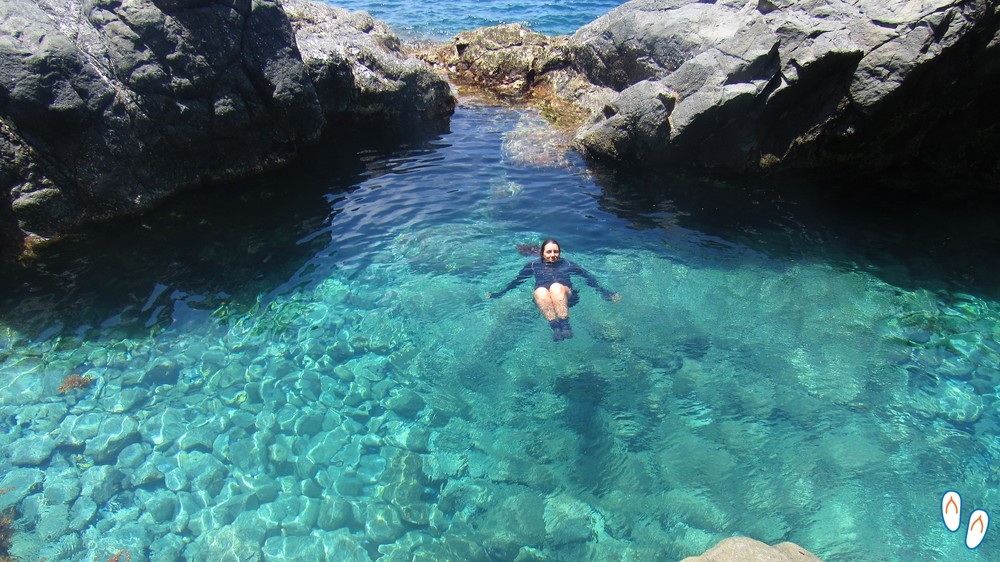 Morro de Fora natural pool at Praia do Meio, Fernando de Noronha
A "secret" that Praia do Meio keeps is a natural pool that is hidden among its stones. The pool is really beautiful and pleasant – but it may get very busy – so try to visit it on a day with less people (like regular working days), otherwise your time on it will be only to take a photo.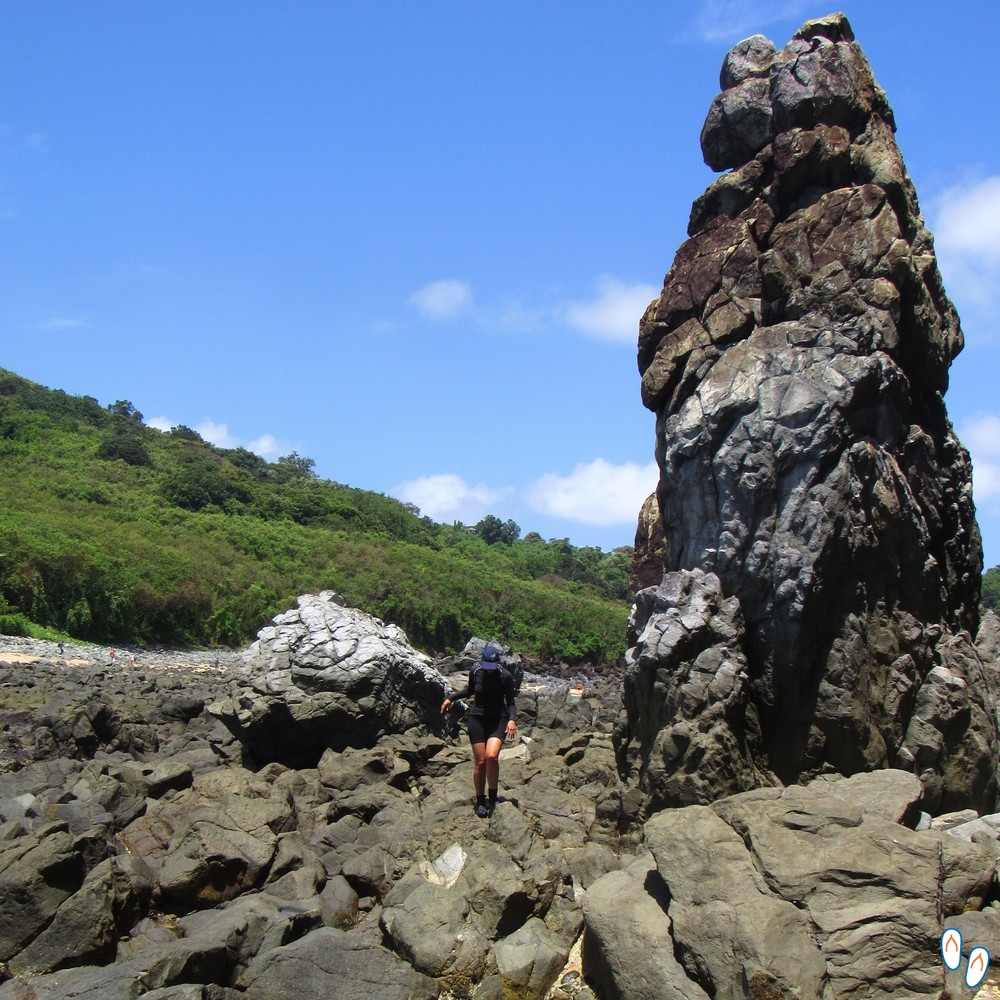 Rocky path to the Morro de Fora natural pool
The natural pool is in the rocky area of Morro de Fora, but closer to Praia do Meio. It can be accessed through the rocky path or by the sea, but only at low tide. Either way, you must be very careful. We preferred to go through the rocks. But it's important to wear sneakers or another comfortable shoe to walk on the rocks until you reach the pool. The natural pool cannot be seen from the beach.
Also keep yourself informed about the tide table – which changes every day. You must plan your day so that the return route is still at low tide.
Praia do Cachorro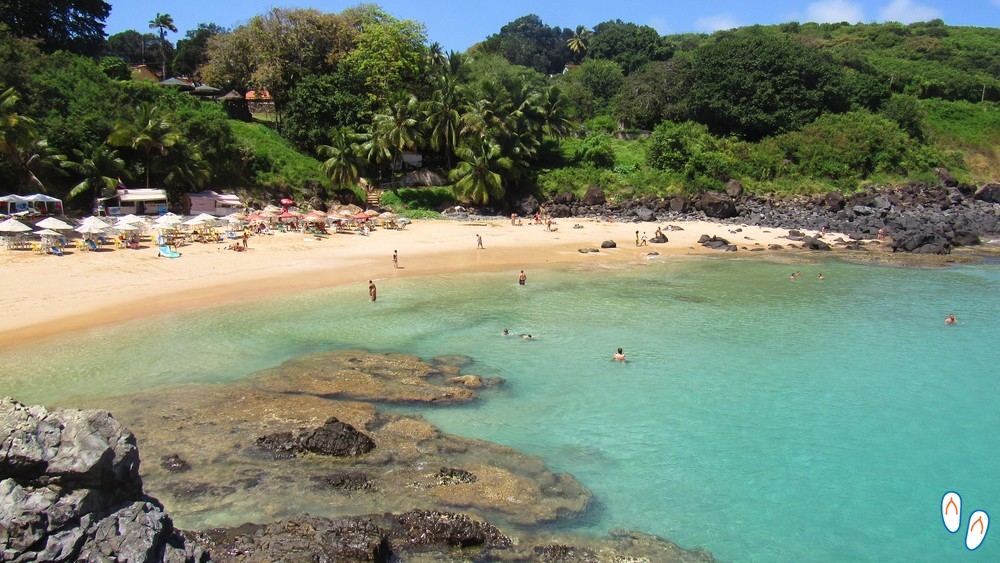 Praia do Cachorro, Fernando de Noronha
Praia do Cachorro is right next to Praia do Meio. It is a smaller and beautiful beach, and more visited by Noronha locals. One of the main attraction of this beach are the natural pools in its rocks: Buraco do Galego and Lasca da Velha.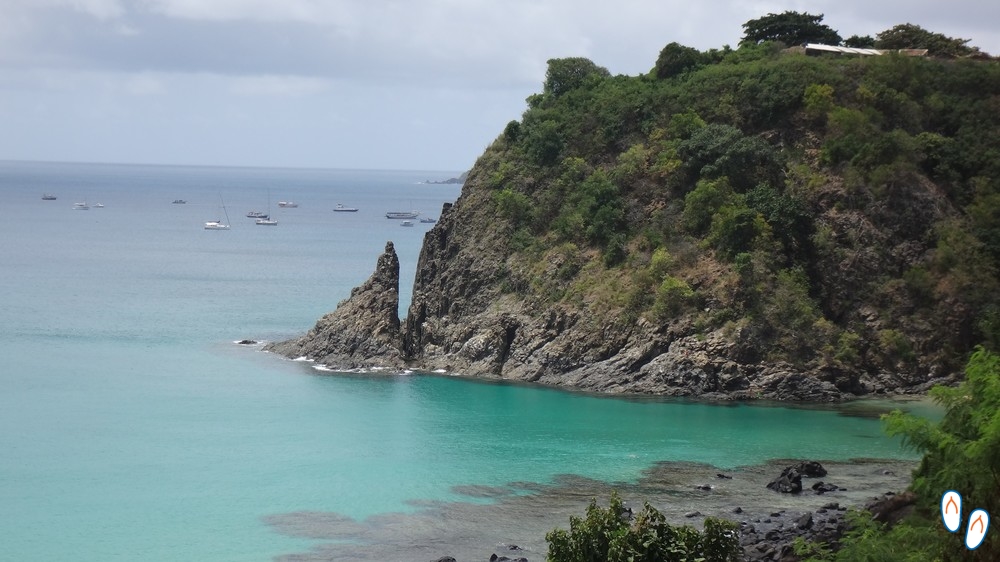 Lasca da Velha at Praia do Cachorro, in Fernando de Noronha
These 2 natural pools are located in the rocks on the right side of Praia do Cachorro. They can only be accessed by walking on the rocks and during low tide. Despite being a major tourist attraction, they are so small that little more than one person can fit at a time. It is not always worth the effort to walk on the rocks – it's common to form queues and you hardly will enjoy it.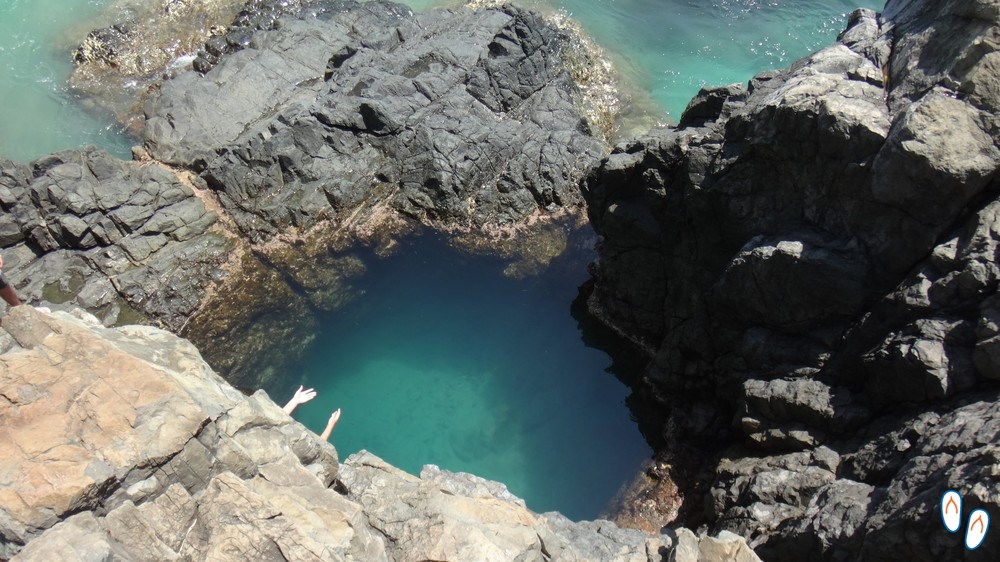 Buraco do Galego at Praia do Cachorro, in Fernando de Noronha
Praia do Porto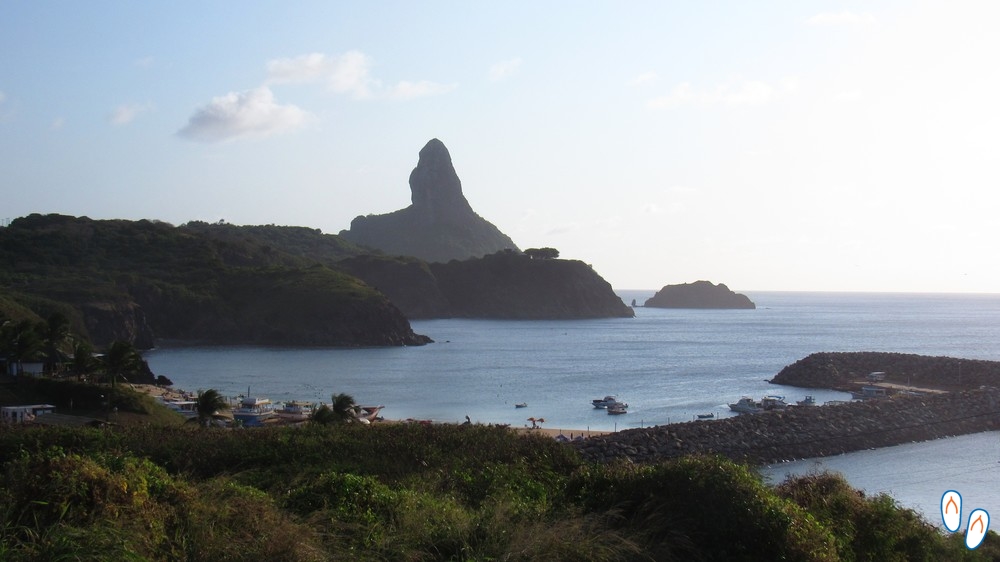 Porto Santo Antônio, Fernando de Noronha
Porto Santo Antônio is the only port in Fernando de Noronha and, therefore, the place from where all boats leave and arrive.
Incredibly, it is an excellent place for snorkeling and scuba diving. At the beginning of the 20th century, 3 major shipwrecks occurred in Fernando de Noronha, very close to the port. Over time, the ship's wreckage on the sea bottom has become an excellent "home" for several marine species, which attract fish, turtles, rays, etc. I described our scuba diving experience here.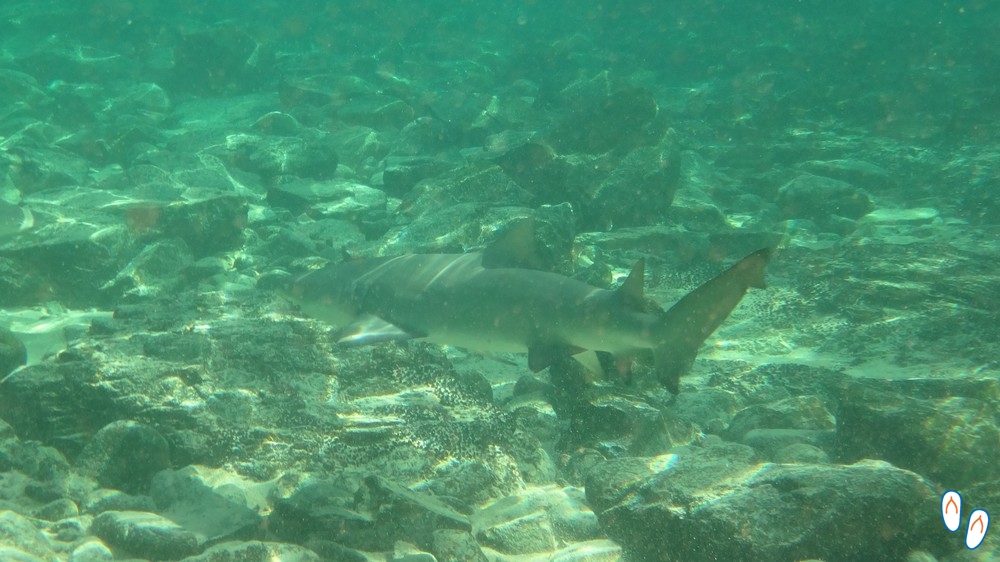 Small shark we saw with snorkel at Praia do Porto
Although scuba diving is exceptional, the simple free diving, with mask and snorkel, in Praia do Porto, is already enough to satisfy the desire to see many marine life. You can even swim from the beach to the shipwrecks – and you can see the wreck from the surface!
It is worth checking the tide table. Fernando de Noronha has 2 high and 2 low tides during the day. For those who want to see the wreck only with snorkel, the ideal is to catch the low tide because you end up getting closer to the wreck.
Attention! Despite the large flow of divers in Porto, scuba diving and snorkelling requires a lot of attention, especially due to the boats that move all the time. Your safety must always come first! Always dive in pairs or groups and always be aware!
Praia do Boldró / Praia do Americano
We chose a rainy day to visit Boldró Beach. We took a bus to Projeto TAMAR and walked for 500m to Praia do Boldró. On the way we also passed by the Golfinho Rotador Project, but it was closed.
Praia do Boldró was beautiful, but it would be unfair to compare it with the others we visited on sunny days. The drizzle made the weather colder, but we still made a snorkel that allowed us to see many fish and turtles.
After snorkeling, we walked to Praia do Americano, which I thought was similar to Boldró's, but smaller. As the tide was low, it was easy to pass through the rocks. If you keep on walking, you'll get to other beaches as Bode, Quixabinha and Cacimba do Padre, which is in front of Morro Dois Irmãos.
Due to the bad weather, we decided to return to Praia do Boldró and had lunch at a restaurant on the beach, which I really wouldn't recommend as it was not a good experience.
Scientific capture of turtles
On that day we were able to watch the scientific capture of sea turtles by Projeto TAMAR team. This event takes place once a week, at Praia do Boldró, and is free for those who want to watch.
It works like this: Projeto TAMAR guys enters the water to capture the turtles (with their own hands) and bring them to the sand. Then, they analyze, measure and weigh them while explaining to the tourists who come to watch. After a few minutes, they return the turtles to the sea. Because of these captures, Projeto TAMAR is able to monitor the animals and know if they are healthy while promoting public awareness of sea turtles.
Praia Cacimba do Padre – Baía dos Porcos
Cacimba do Padre beach, Fernando de Noronha
We took a taxi to Cacimba do Padre Beach in order to see Fernando de Noronha's main landscape: Morro Dois Irmãos.
When we arrived at the beach, we left our things on the rocks, took our snorkel kit and started swimming towards the rocky hills. The 'morros' are really close to the beach, so with the calm sea swimming can be really peaceful, especially in the area protected from the wind by the hills. We preferred not to go around the hills – because in the 'open sea' there were some waves. Anyway, even with the calm sea, free diving always requires a lot of attention and should always be done in groups of 2 or more people for safety.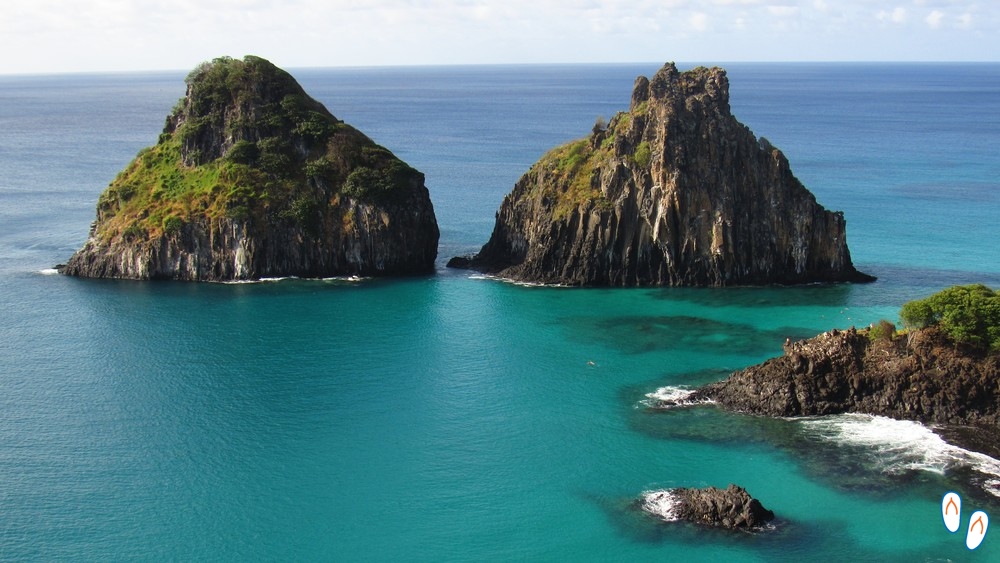 Morro Dois Irmãos, Fernando de Noronha
Both hills are very similar in shape, but when watched closely you may note a big difference between them: while one is pure volcanic stone, the other is covered with vegetation. The hills stand in front of Cacimba do Padre beach, but already invading the area called Baía dos Porcos. The combination of the 'morros' with the beautiful bay on the side forms the main postcard of Fernando de Noronha – and one of the most beautiful landscapes I've ever seen, honestly!
Baía dos Porcos, Fernando de Noronha
After observing the 'abyss' of the ocean and looking closely at the beautiful hillside, we started to swim back to the land, but this time, towards Baía dos Porcos. The bay, although narrow, is an excellent place to relax and watch marine life. Due to its protected location, it has one of the calmest waters in Fernando de Noronha, and is full of colorful fish that swim in its rocks. One can stay there for hours and not get tired.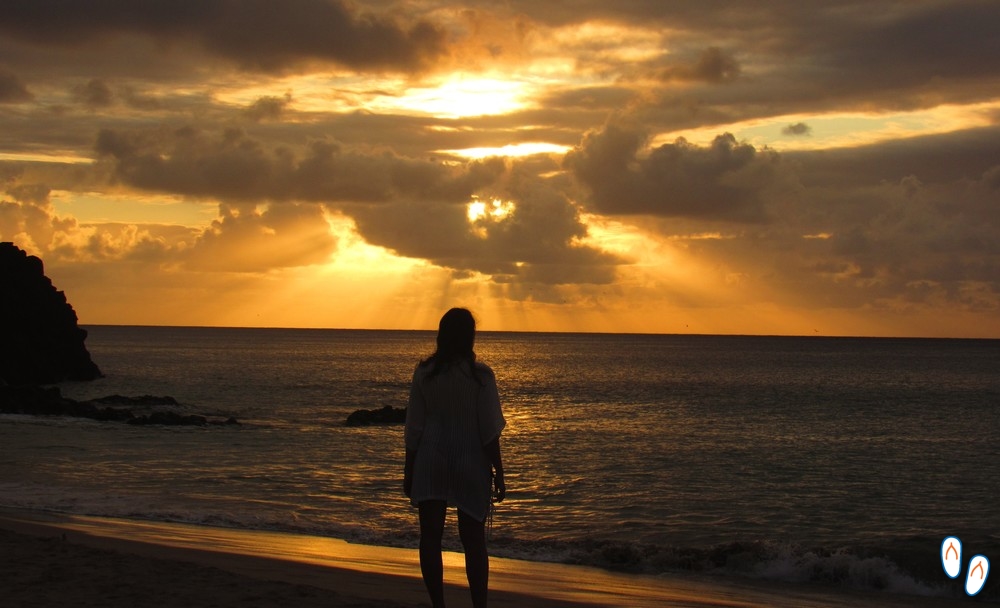 Watching the sunset at Cacimba do Padre beach
At some point, we decided to return to Cacimba do Padre, which we could do by land through Baía dos Porcos rocky path. The path even passes through a lookout where some of the best pictures of Morro Dois Irmãos are taken. The view from the top is really beautiful. We spent the rest of the afternoon relaxing in Cacimba do Padre, until the sun went down, so we called a taxi back to the hotel.
Praia do Sancho – Mirante dos Golfinhos – Mirante Baía dos Porcos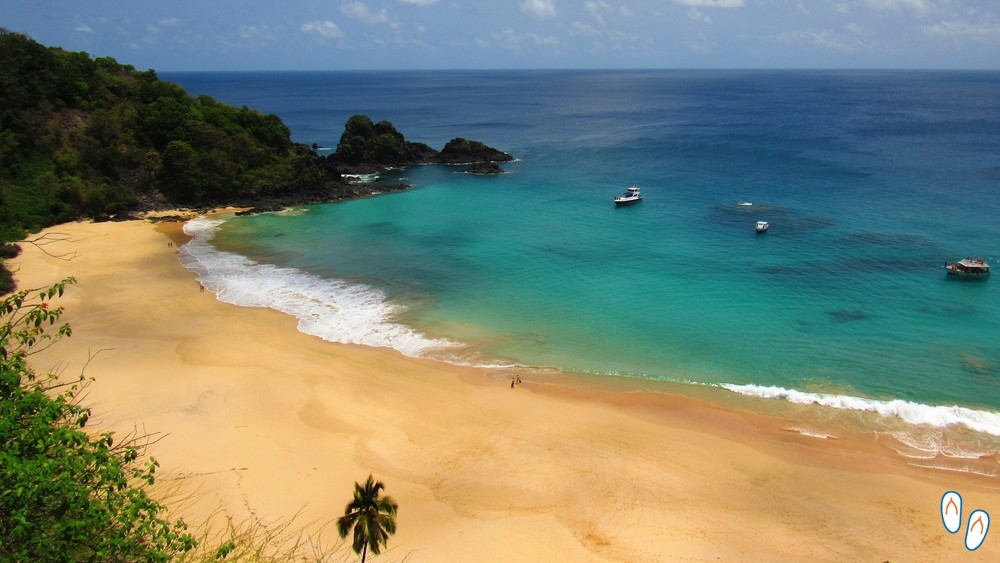 Praia do Sancho, Fernando de Noronha
Plan at least one day to visit one of the most famous beaches in Fernando de Noronha, Praia do Sancho. Praia do Sancho is within the National Marine Park area, so it is mandatory to present the PANAMAR card for entry.
On that day we preferred to take a cab to get to PIC Sancho, which is the starting point for the trails and access to the beach. You can also go by bus, but it worth noting that the bus stop is a 1000m distance on a dirt road to the PIC.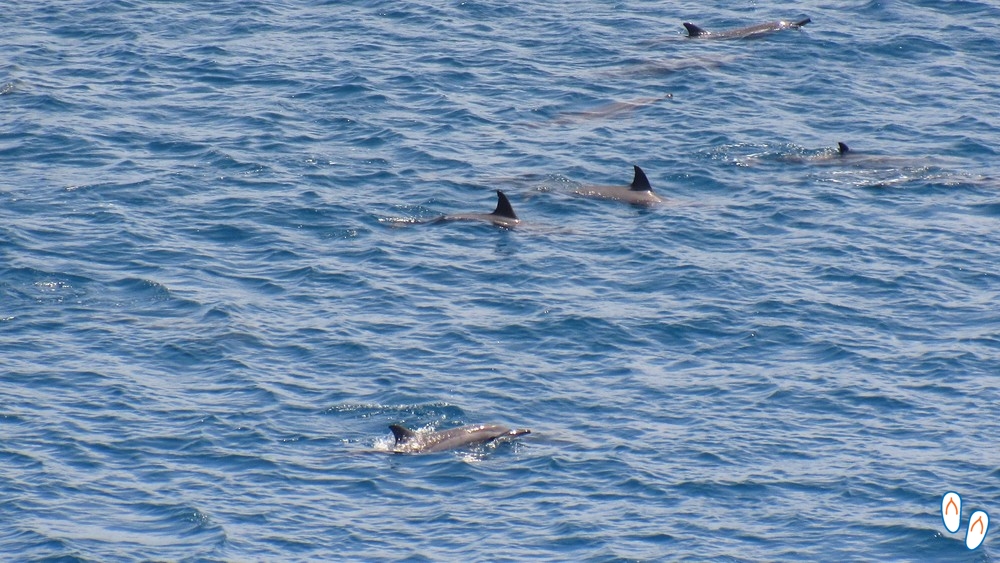 Group of dolphins sighted from the PIC Sancho trail
Sancho complex includes a structure with restrooms, snack bar, souvenir shop, equipment rental and about 3km of a trail suspended by a footbridge. The route passes through some viewpoints such as Mirante dos Golfinhos and Mirante Baía dos Porcos, and has access to Praia do Sancho.
For those who do not want to pass by the viewpoints, there is a shorter access option to Praia do Sancho, but the beauty of Fernando de Noronha is not only in the crystal clear waters, it is also on the slopes, and the entire topography of the island. It is worth taking the longer route, in addition to the fact that you may get the chance to spot dolphins, birds and – if you're lucky – maybe even a whale.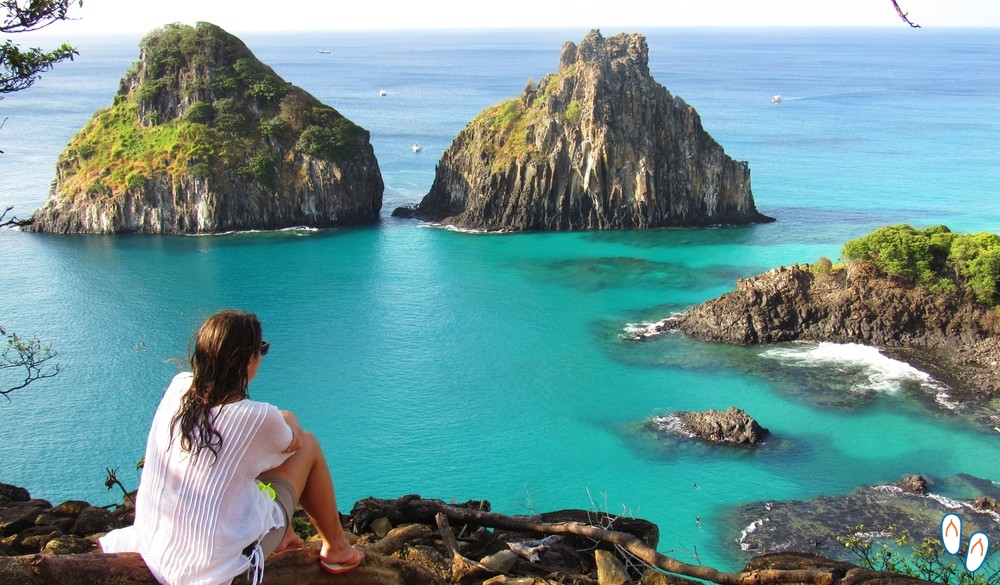 Baía dos Porcos viewpoint, end point of the trail that starts at PIC Sancho
Baía dos Porcos viewpoint, in the end of the course, offers one of the greatest views of the beach. Some of the prettiest pictures of Fernando de Noronha were taken from this spot.
Access to Praia do Sancho
Although the trail is easy and very accessible walk, the access to the beach is quite different. To get to Praia do Sancho, you must go down a metal ladder stuck in the rocks, passing through some very narrow parts. The way back is the same.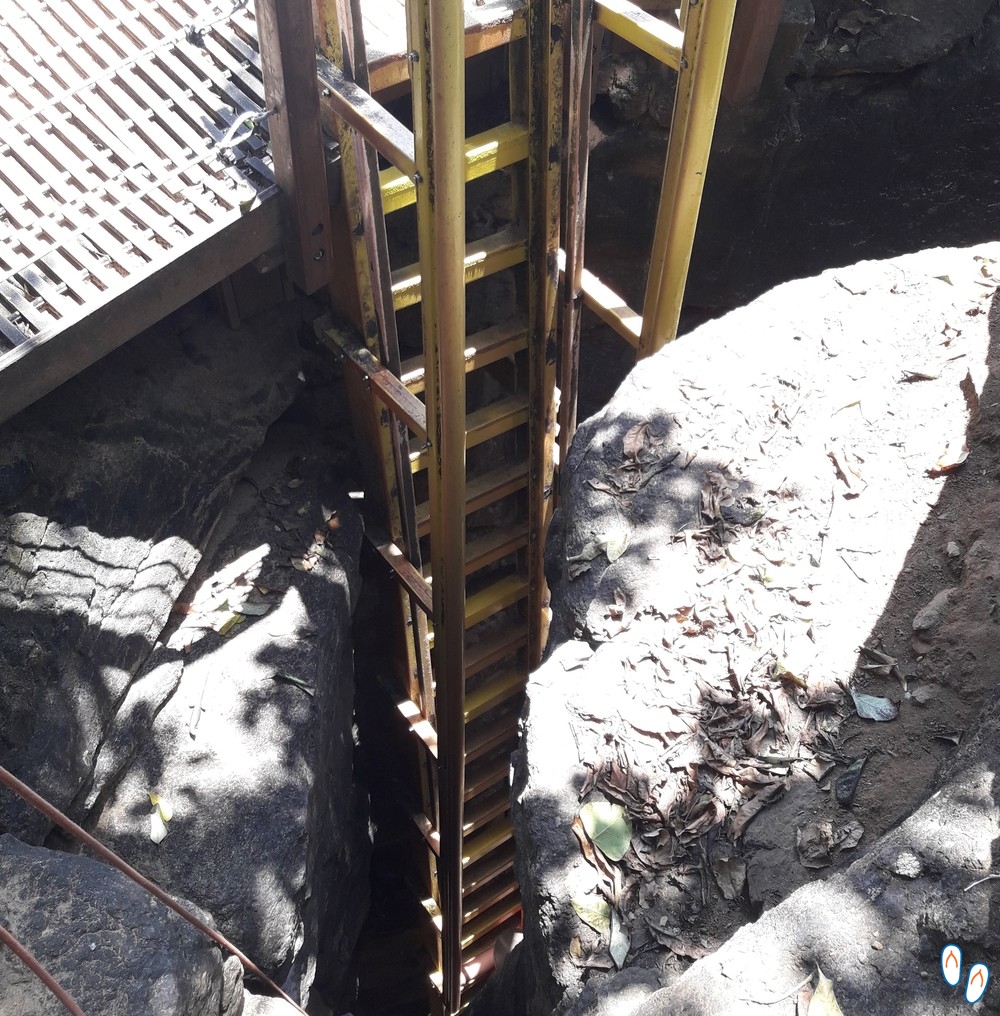 Not only it's a demanding course, but only one person goes through the ladder at a time, which ends up forming a queue. Needless to say, once you're down on the beach, you don't want to go back up unless it's to go back to your hotel. I recommend taking a backpack with some snacks and other supplies you may need; but do not take too many things so it could make it more difficult to go through the ladder,  you will need both hands for the descent.
Praia do Sancho is really beautiful, like many in Noronha. I didn't find this one particularly special, despite having caught a day with a few waves due to the full moon at the night before.
PIC Sancho is open to the public from 6:30 am to 6:30 pm.
Sueste / Leão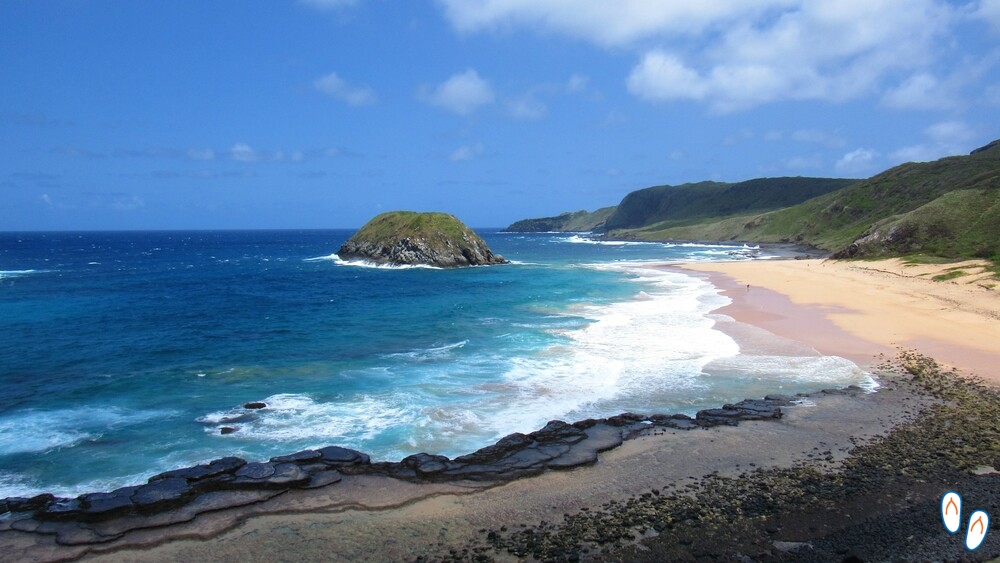 Praia do Leão, Fernando de Noronha
The beaches of Sueste and Leão are on the side of the island called 'outside sea', the southern part of Fernando de Noronha. Both beaches are part of the area protected by the National Park, and the PANAMAR card must be presented.
Praia do Sueste
Praia do Sueste is famous for being one of the best spots for the practice of free diving (snorkeling), due to its "C" shape and to being more protected from the waves than the other beaches of the 'outside sea'.
However, the best months (best = calmest sea) of the 'inside sea' are the worst for the 'outside sea'. Unfortunately we did not get a good condition for snorkeling in the Sueste. It ended up being a "must-do" for our next visit to Fernando de Noronha.
Sueste beach has some peculiarities. To begin with, it's the only place in South Atlantic that shelters mangroves from oceanic islands. In addition, all the ecosystem in Sueste functions as a nursery for several marine species. It is even one of the beaches with the highest number of sea turtles, and even sharks are seen quite frequently in these waters.
To protect this ecosystem from human activity, only a part of the beach is accessible for swimming and diving. The other part can only be accessed by authorized researchers.
Access to Sueste
PIC Sueste is one of the most distant beach from Vila dos Remédios. Therefore, it's one of the most expensive taxi rides within the island. For this reason, we preferred to take the bus to get to Sueste.
Since it is the start/end point of the bus route, it's easy to leave Sueste by bus. The entrance to the PIC is on the beach, with a structure with a snack bar, restrooms, souvenir shop, equipment rental and rest area – and next to the bus stop.
Trails
PIC Sueste gives access to some short trails, such as to Ponta do Caracas and Praia do Leão.
Ponta do Caracas is at the tip of the peninsula. It is a 1.5km walk to reach the point where you face the vast South Atlantic Ocean. You may make a detour to a viewpoint at Praia do Sueste, and also pass through the ruins of Fort São Joaquim do Sueste.
Praia do Leão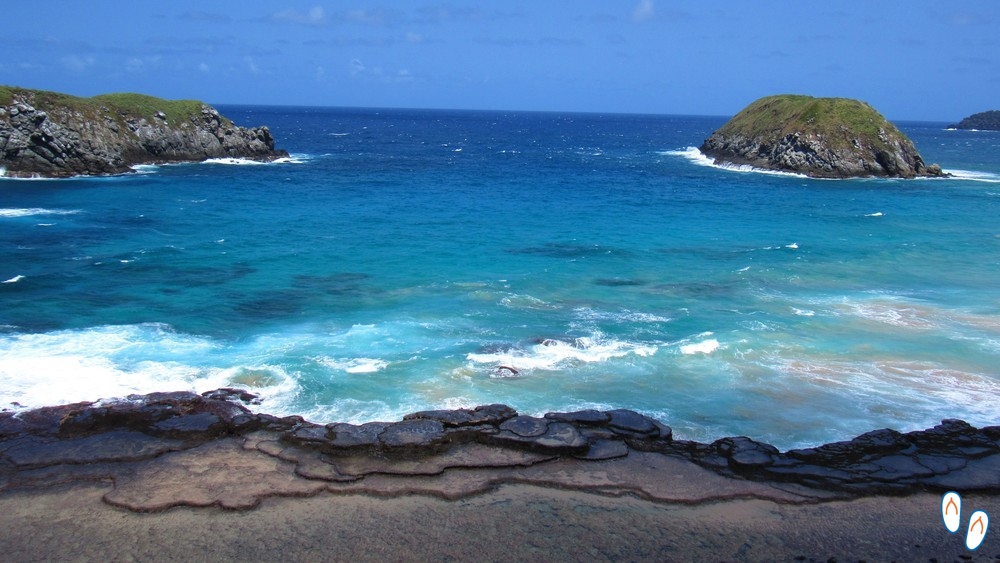 Praia do Leão, Fernando de Noronha
Praia do Leão is just over 1km from PIC Sueste. This beach is usually one of the most dangerous for swimming, and having strong sea currents. Despite that, it is very worthwhile to go at least to the lookout Mirante da Praia do Leão to contemplate the beauty of this place.
I particularly found it one of Fernando de Noronha's most mesmerizing landscapes. The waves crashed hard on the coral reefs, and the foam turned the water into different shades of blue. At low tide it's possible to observe several of these reefs.
Praia do Leão is an important turtle nesting point from December to May. It's possible to follow this nesting process with Projeto TAMAR – but the process happens during the night and it is necessary to guarantee one of the few vacancies to be able to participate.
Other activity options in Fernando de Noronha
Museu Tubarões – Enseada dos Tubarões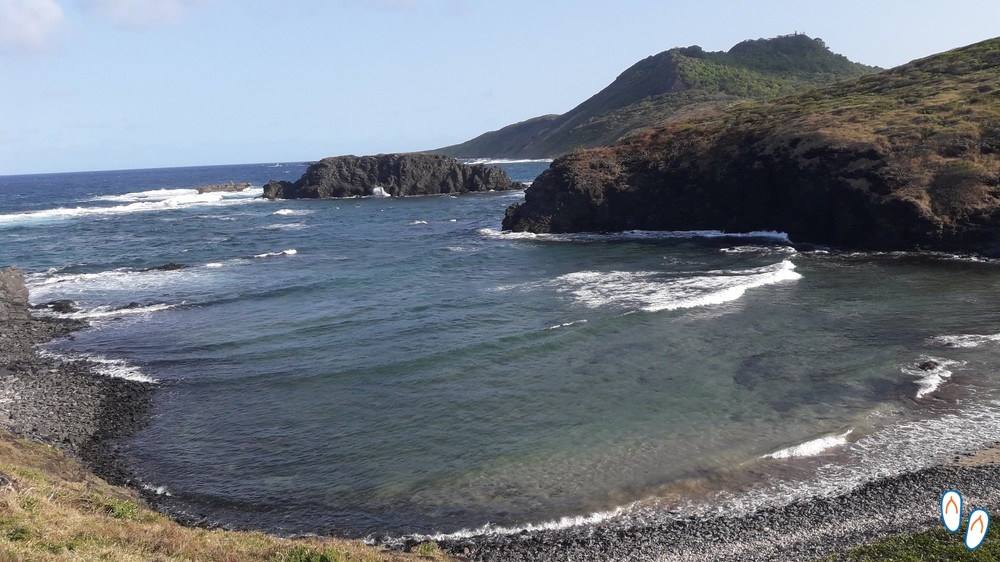 Enseada dos Tubarões – you can see several sand sharks swimming together in the shallow parts
The Museu Tubarões (Sharks Museum) and the Enseada dos Tubarões (Sharks Cove) are worth visiting! They are very close to Porto Santo Antônio and Caieiras beach, where the Atalaia Trail (long) ends. It's a place you visit after finishing the trail.
Museu Tubarões is a free and educational museum. We got used to having a very "villainized" thinking of the sharks, with stories we heard since we were children. I believe that we have a lot to learn from the actual facts and open our minds to other concepts. It is very interesting and educational!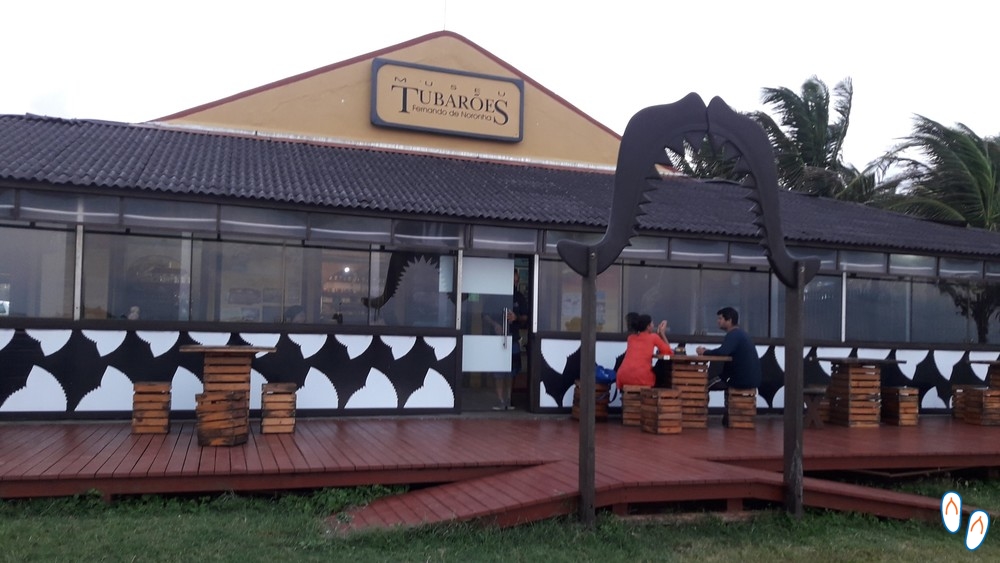 Museu Tubarões, Fernando de Noronha
Enseada dos Tubarões (Sharks Cove) is also right there, right after the small chapel of São Pedro dos Pescadores. We were able to see a large number of nurse sharks swimming and interacting in the cove.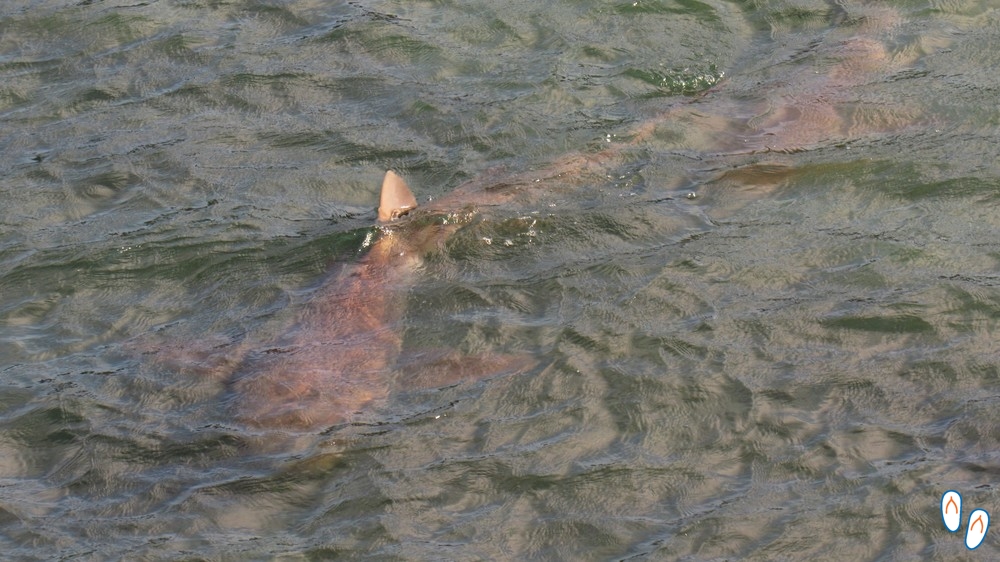 Nurse shark swimming in Enseada dos Tubarões
Ilha Tour – is it worth it?
A very popular tour option for the 1st day in Fernando de Noronha is Ilha Tour. Ilha Tour is nothing more than a full day guided tour, in a car or a van, that takes a small group around the island, and passes through the main beaches of Fernando de Noronha. The tour costs from R$230.00 per person and is often the option of those who believe they won't have time to visit everything.
My sincere opinion? Not worth it. I wouldn't do it if I stayed neither more nor less time on the island. I do not believe that a guided tour, with half an hour on each beach can be enjoyable. It gets tiring, you lose practically 1 day for it, and the worst of all: it doesn't always help you to form the best opinion of which beach to return to. Each day, each hour can present different sky, sea and wind conditions.
If I have to choose, I prefer not to visit all the beaches and being able to enjoy every day I have in Noronha in the best way.
Hawaiian Canoe Ride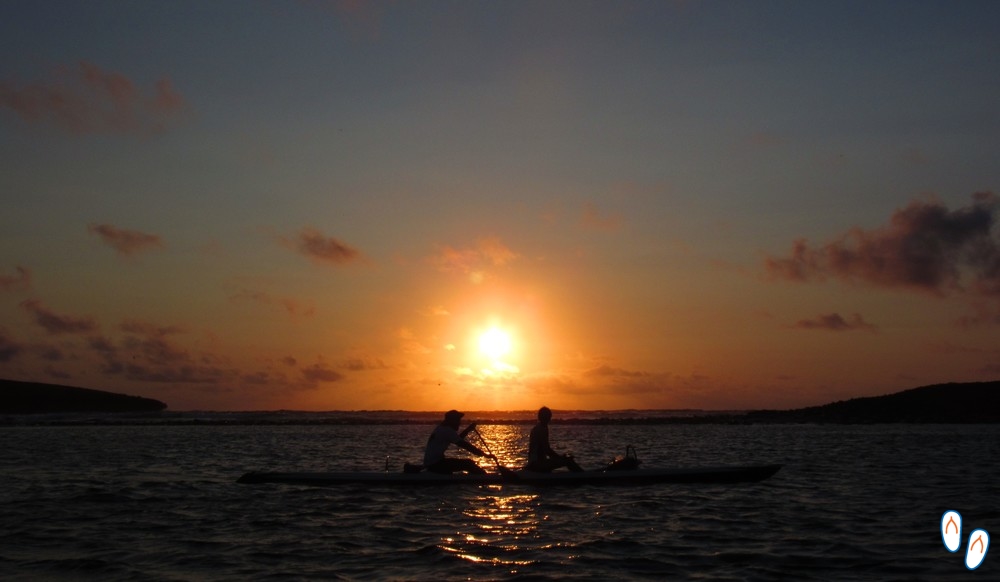 Hawaiian Canoe Ride at sunrise in Noronha – spectacular!
A tour that I highly recommend in Fernando de Noronha is the Hawaiian canoe ride at dawn.
We received a recommendation from a local guide for this tour, and it was excellent. We highly recommend the guide Danilo, from the Noronha Canoe Clube, and the tour too.
We took the 2 hour Maka Launa canoe tour to catch the sunrise. The price was R$180 per person, but it was unforgettable.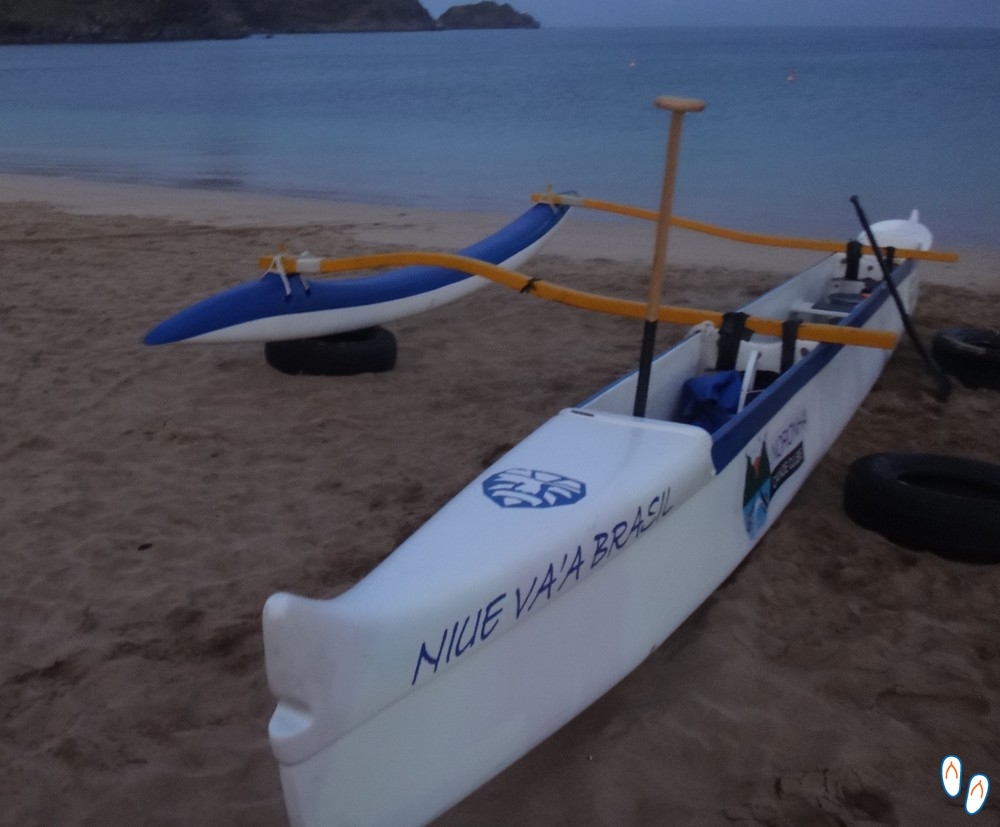 Canoa Maka Launa
We scheduled with a taxi driver to pick us up at the hotel at 5:30 am to arrive in Praia do Porto at 5:40 am. After introducing ourselves to the guide, he explained a little about the dynamics of the tour and gave us a brief training. The ride is calm and there is no need of rowing experience or technical knowledge.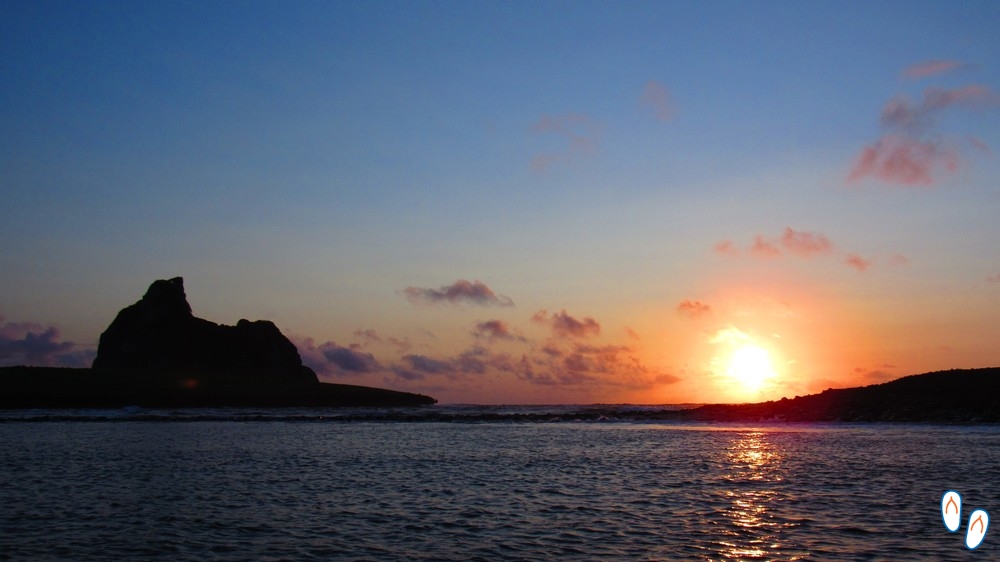 Sunrise near to São José island
As we boarded the Hawaiian canoe, we started paddling towards the tip of the island, close to São José island, to see the sky turning orange in the beautiful Noronha sunrise. Amazing!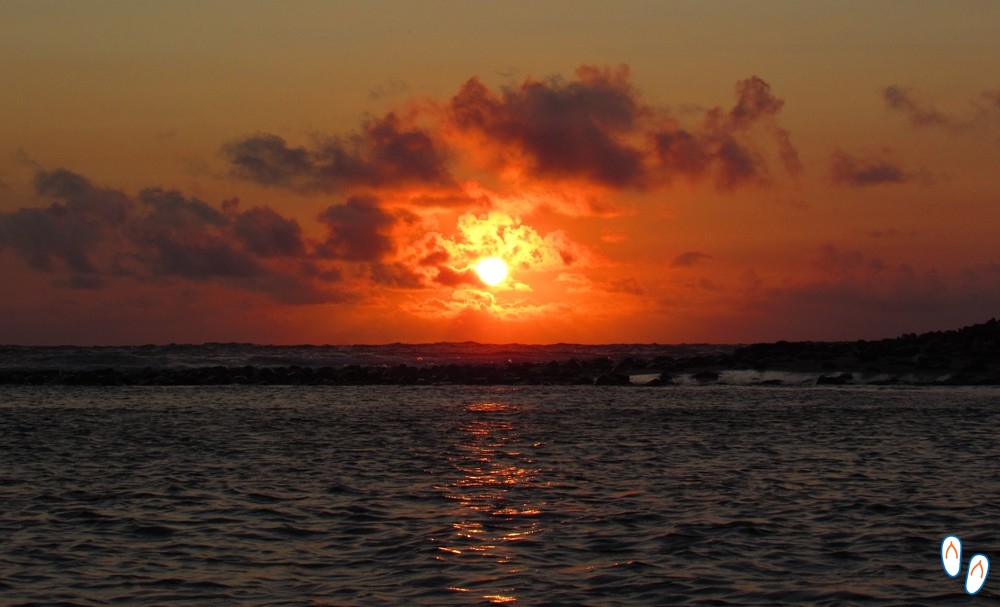 Sun rising at the meeting of the "inside sea" with the "outside sea"
Then, we continued paddling in the opposite direction, towards Praia da Conceição, where we stopped the canoe for a while to go snorkeling.
On the way back to Praia do Porto we saw some dolphins swimming. The dolphins approached us until they started to swim on our side, some passing under our canoe. We had to stop paddling to avoid the risk of hitting them with the paddle, it was incredible. It's quite common to be able to watch dolphins in this region early in the morning. It was one of our expectations with this tour and it really was awesome!
What to take to Fernando de Noronha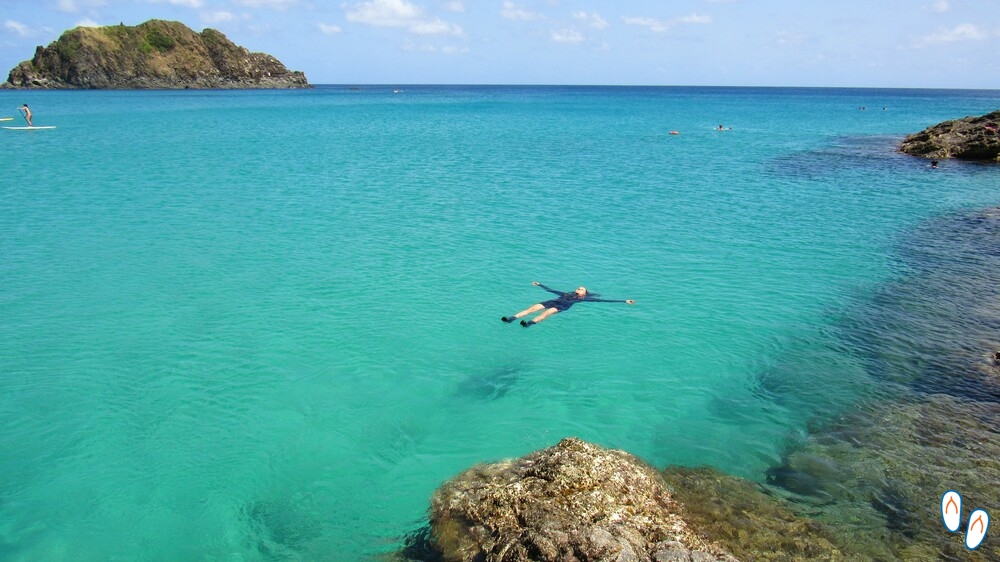 Relaxing in the sea of Praia do Cachorro
Due to the high prices in Fernando de Noronha, I recommend bringing most supplies you may need from home. Some essential items to take:
• Swimwear;
• Hat or cap;
• Sunscreen;
• Bug Repellent (for the evening)
• Lip balm with SPF;
• Sunglasses;
• Backpack;
• Camera;
• Sneakers or other comfortable shoe for hiking and walking;
• Flip-flops
In addition to these essential items, we also took:
• Squeeze or reusable water bottle;
• Cereal bars or other snack options for days with more activities;
• Towels for the beach and hiking trails;
• Waterproof camera;
• Snorkeling kit (mask, snorkel, swimming fins and T-shirt with UV protection). 
Did you like this post? Share it with your friends:
Qual é o seu sonho de viagem?