Vancouver is the "perfect city". Why? First of all, it's one of the largest cities in Canada, and has all the infrastructure of a major urban center. Despite that, the town is surrounded by the sea, mountains and green areas; and it's one of the cities with the best quality of life in the world. Beautiful, diverse, sophisticated, delightful…Vancouver is an excellent place to visit and also to live.
Vancouver's climate is also very pleasant – especially for those who don't like to live in warmer regions. In winter, it hardly reaches negative temperatures. In summer, you can enjoy the sun with average temperatures around 20ºC.
General information about Vancouver
Vancouver is on a peninsula. The region considered as the city center is in the north of the peninsula, close to the port and to the canal that gives access to North Vancouver, a neighboring city that is connected to Vancouver by the Highway 1 and the Lions Gate Bridge.
Vancouver is a city with many pleasant neighborhoods to walk and discover. I believe that the main one is Gastown, the oldest neighborhood in the city. The city literally started there. Nowadays, Gastown is well revitalized and is home to a good variety of stores, bars, restaurants and galleries, making it one of the top places to visit in Vancouver.
Those who enjoy taking walk in the evening will probably also like Downtown. Granville Street is Vancouver's central street and is usually very crowded in the evening, with many entertainment options. Downtown is also home to BC Place – a football stadium that hosts many concerts and events – and Rogers Arena – the official arena of the local hockey team. For the sports fans, it's worth checking the schedule and see if you can catch a game.
Another interesting neighborhood for those who enjoy urban cities is Granville Island which, despite its name, is not on an island, but on a peninsula. It's usually a very busy place, especially on weekends. It attracts locals and tourists mainly thanks to the Public Market, to its many restaurants and the Grandville Island Brewery, a craft brewery.
Where to stay in Vancouver
I particularly believe that there's no bad place to stay in the Vancouver. The city has a good public transportation network and doesn't have violence problems as in San Francisco, for example. The neighborhoods closer to the city center are usually more popular with tourists because of the convenience, but they are also more expensive.
We chose to book an Airbnb in the Fairview neighborhood, a nice and quiet area with tree-covered streets. The location was also great because it was a residential area where street parking was allowed.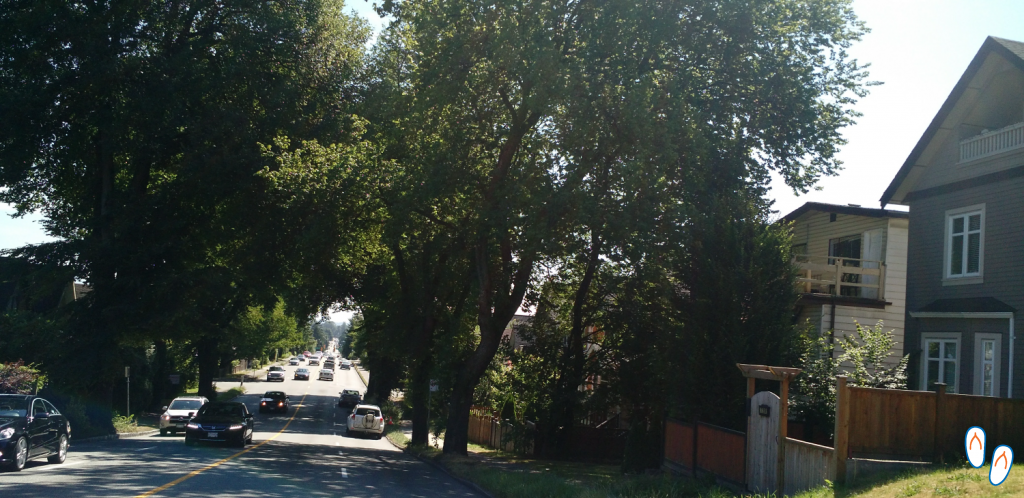 Quiet and pleasant neighborhood of Fairview, where we stayed in Vancouver.
There are also those who prefer to stay in North Vancouver, a neighboring town in northern Vancouver, which is closer to the mountains and state parks.
Transportation in Vancouver
Many people recommended us not to use a car in Vancouver, but we had no problem with that. It's true that parking lots are expensive, and that in central regions like Downtown and Gastown it's very difficult to park on the street. But in other regions we found it easier. The Vancouver City website has a lot of information on street parking rules, click here. to access it.
Public transportation in Vancouver works very well. You can plan your route on the website of Translink, the company that manages the city's public transport.
There are 3 main means of transportation in the city: the bus, the SkyTrain and the SeaBus. Prices vary according to the type of fare and the distances covered. The tickets can be purchased on automatic machines at SkyTrain and SeaBus stations. Cash is accepted in buses, but you need to have the exact fare, as they do not give change.
Places to visit in Vancouver
Vancouver is a very pleasant city and offers a wide range of activities in and around the city. You can easily stay 5 days or more without repeating the places visited.
We ended up having just 2 days to enjoy the city, so we only focused on the locations that we were most interested in. But now I realize that it would be better to have a little more time to enjoy this incredible city.
In this post, you will be able to read about the places we visited in Vancouver, but also about others that we missed due to the lack of time:
Stanley Park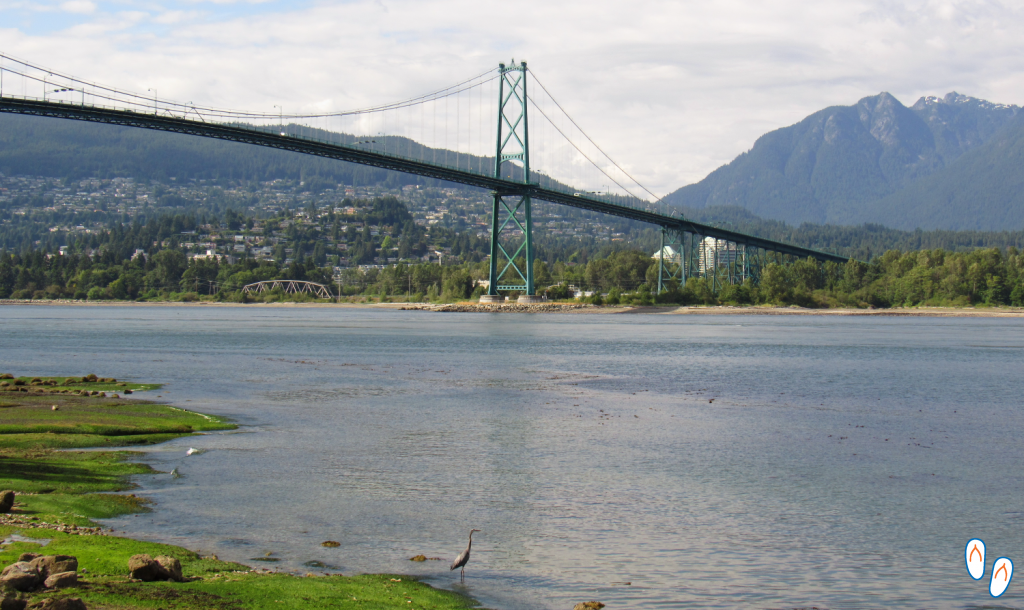 It is the largest urban park in Canada and the third largest in North America. Its 405-hectare area is mostly covered by a local natural forest. Unlike many urban parks in the world, Stanley Park was not a creation of architects and landscape designers. Many of the trees in the park are hundreds of years old.
Stanley Park is not only big, but also very beautiful, pleasant and has a great ecological diversity. A walk through the middle of the park allows visitors to observe its rich flora and fauna. Walking around it, on the other hand, gives access to 2 beaches on the west side of the park and a view of the famous Lions Gate Bridge. The park is almost entirely surrounded by waters from Vancouver Harbour and English Bay.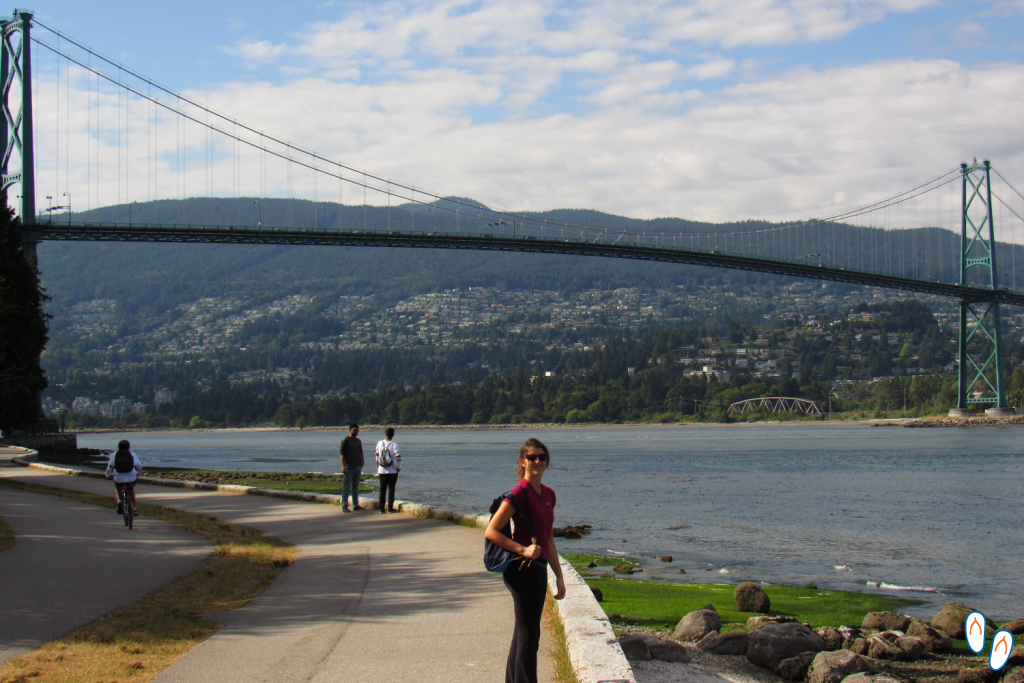 Walking on SeaWall, a continuous boardwalk that spans the entire Stanley Park and heads to downtown Vancouver
Stanley Park's main track goes around the park, crossed by several trails. It can be explored by car, on foot, or by bicycle. It is also an appropriate place to practice different sports and activities. Near the entrance to Stanley Park there are areas such as tennis and basketball courts, a golf course, etc. To access the complete map of the park, click here.
In the heart of the Stanley Park, lies Beaver Lake – a lake with a trail of about 1km that surrounds it. Beaver Lake is in the process of being transformed into a swamp, due to all the vegetation that grows on it. The trail allows visitors to observe the lake and its thousands of water lilies, forming a beautiful landscape. If you're very lucky, you might even see a beaver out there.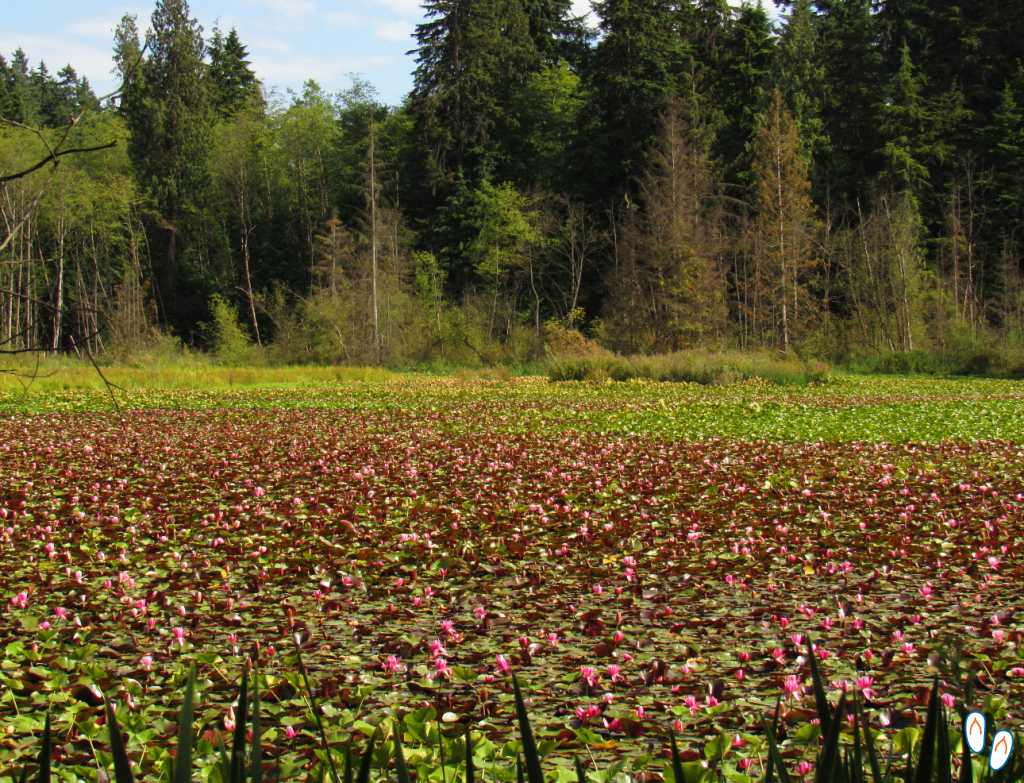 Beaver Lake
Bowen Island
Bowen Island is an island west of West Vancouver. Despite the short distance from Vancouver, it is a place to spend the day – or days – and makes you feel like you're 1000 kilometers from the city.
Bowen Island has about 3000 inhabitants. Many people who live on the island go to the continent during the day to work. At the same time, many people who live on the continent choose to go to Bowen Island to enjoy the weekend.
Bowen Island is a place that offers several options for activities such as kayaking, SUP, snorkel, diving, trails, climbing, cycling, among others. The island also has a nice village where you can take a walk and find a place to eat.
We decided to visit the island, even without having so much time to explore it. We drove to Horseshoe Bay, in West Vancouver, where we parked the car and took a ferry that cost CAD 12.00 per person (round trip). The ferrry arrives in the area called Snug Cove, which is home to many of the island's restaurants and stores. We had lunch at Rustique Bistrô and then we went to explore the island.
Bowen Island is about 12km long. The options for trails and cycling are quite varied, from the lightest to the most difficult. Due to our short time, we only did the trail to Killarney Lake, taking around 2h30 to go around the lake, starting from Snug Cove..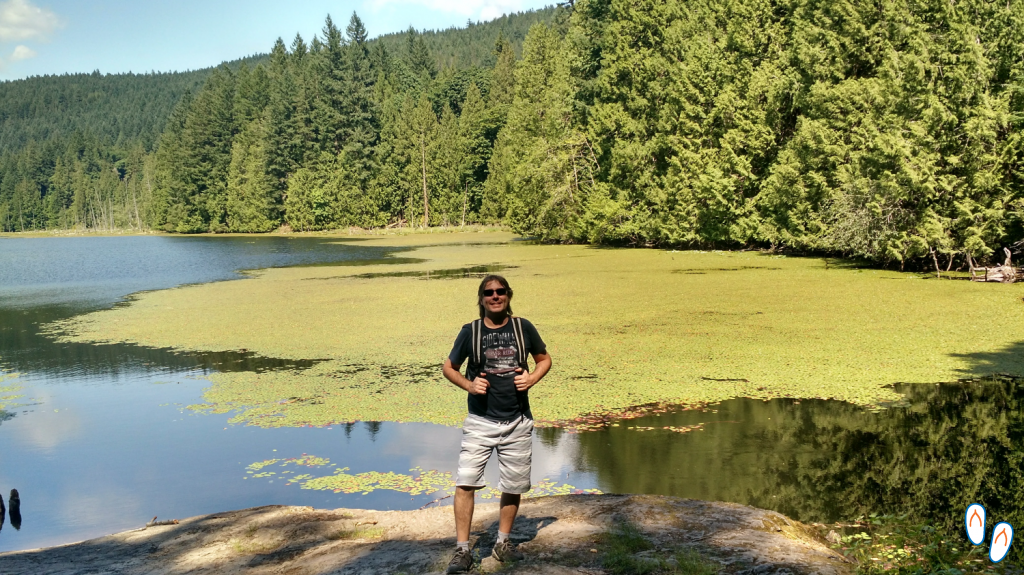 Beside the Killarney Lake on Bowen Island
The heaviest trail on Bowen Island is Mount Gardner, which is 10km long, at 719m of elevation. The trail to Mount Gardner usually takes 6 hours to complete. To access the complete map of the island with other trails and activities, click here.
In addition to the trails, other options of activities on Bowen Island that are well recommended are to visit the island by bike or rent a kayak at the marina to explore the coast. For those who prefer, some companies like Bowen Island Tours work with guided tours (full-day and half -day) that include hiking, gastronomy, culture and a little history of the island.
Grouse Mountain
Grouse Mountain is a mountain located in North Vancouver, 12km from downtown Vancouver. The mountain is 853m high and at its top there are several options for activities. Some of them include zip lines, cable car and a wind tower in which it is allowed to ascend through a glass capsule that offers the visitor a 360º view from the top.
At the top of the mountain there is also an animal sanctuary, where 2 rescued grizzly bears live.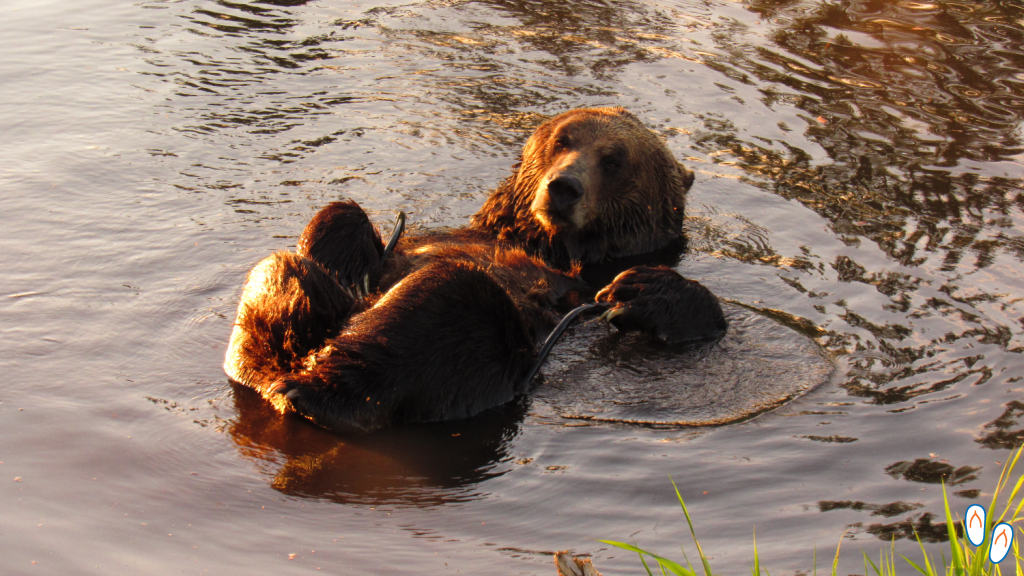 Grizzly bear, playing in a lake at the top of Grouse Mountain.
It's possible to climb the mountain by cable car or on foot. To go by cable car, the visitor pays CAD 56.00 (2018 values) and has access to the Mountain Admission Ticket, which includes some activities such as the cable car to the highest point.
The other option is to take Grouse Grind trail and use the cable car only to descend, paying CAD 15.00 (2018 values). The trail is uphill only.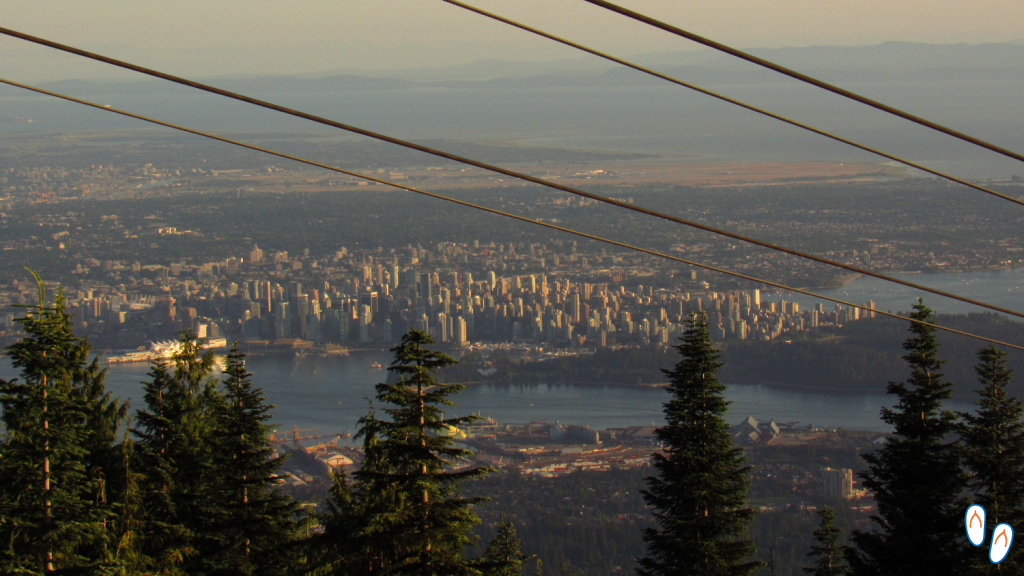 VVancouver city view from the top of Grouse Mountain, before taking the cable car down
About Grouse Grind trail
Grouse Grind is a trail that requires a lot of physical effort and is recommended for people with good physical conditioning. To be honest, I wasn't sure if I could take it. I decided to try – and I succeeded.
The trail is 2.9 km long and 853 meters high – which means, it is quite steep. The height is equivalent to 2 Empire State Buildings or almost 3 Eiffel Towers.
There are 2,830 steps just to go up, some of them very high. They estimate the average time to reach the top from 1h30 to 2hs – we did it in 2h10. Each one can do the trail at their own pace, and by its inclination it is even recommended that you respect your limits. Some relevant information for those who want to venture into Grouse Grind:
It is recommended to do the trail with good shoes and light sports clothes. Despite that, protection against the cold must be taken, because at the top the temperature drops;
It is important to be equipped with water and some food for the trail. At the end of the trail there is a cafe/restaurant; but since the climb is long and tiring, don't go unprepared;
The trail is surrounded by the mountain vegetation, which is good because it avoids too much exposure to the sun. But also be prepared to face flies and mosquitoes on the trail. The use of mosquito repellent is recommended;
Despite its proximity to the city, Grouse Mountain is a natural environment where there can be encounters with wildlife, such as deer and even bears. However, these meetings tend to be very rare, mainly because it is a place with a lot of people;
The trail has 3 official markings: 1/4, 1/2 and 3/4. The markings refer to the elevation, not the distance covered. The first quarter is the longest but also the least steep.
Despite the difficulty level of Grouse Grind, the trail is quite crowded. More than 150 thousand people take this trail every year. Many people use the site for fitness activities. We recommend trying to avoid peak hours, which are on weekends and during the week after work hours. If you meet a lot of people on the route, give way to those who are faster than you.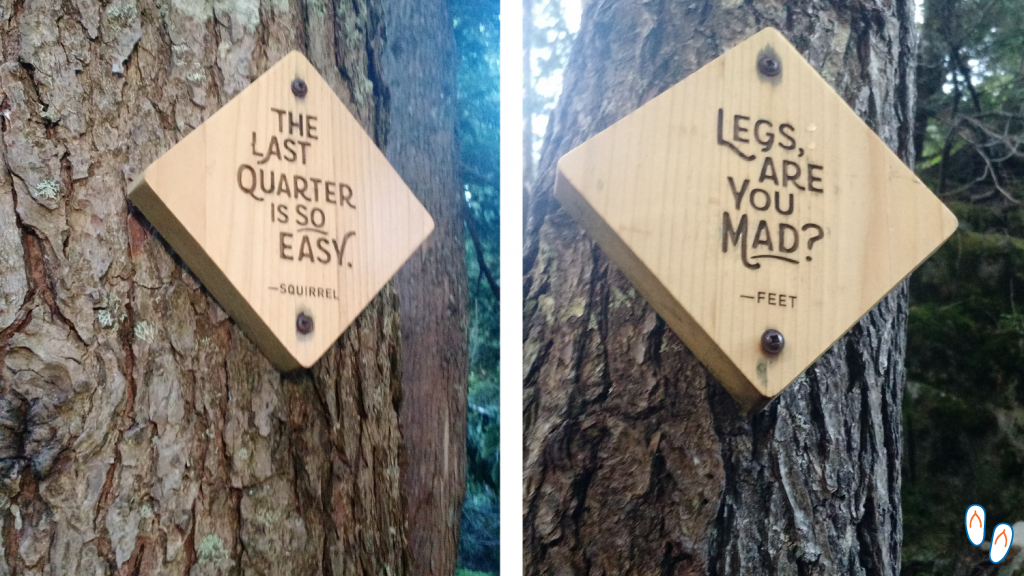 Sarcastic signs in the last part of the trail, with messages that make fun of the visitors' effort.
Whoever takes Grouse Grind trail, does it because of the experience, adventure, physical activity or even to be in contact with nature. Due to its thick vegetation, it is not a path for contemplation. The landscape is very nice once you reach the top, where you can see downtown Vancouver and English Bay.
Either way, Grouse Mountain is a great place to visit in the Vancouver area. You can plan your visit by checking opening hours and activities in operation here.
Other places to visit in Vancouver and nearby
Whistler
A place we would love to have visited in Vancouver area is Whistler. Whistler is a city about 2 hours north of Vancouver. Unfortunately because of the fires, we were unable to go there as some highways had been closed.
Whistler is a city that attracts many tourists in all seasons. The charming village is surrounded by lakes and mountains, where you can do many activities. In winter, ski and snowboard tracks are very popular. In summer, Whistler becomes a great place for water activities, cycling, hiking, etc. The website www.whistler.com offers good information to tourists.
Garibaldi Provincial Park
At the southeast of Whistler, but still 70km away from Vancouver, is located Garibaldi Provincial Park. This natural park is home to Mount Garibaldi, which is actually a volcano, and the beautiful Lake Garibaldi. Lake Garibaldi, being formed by glaciers, has that turquoise water that leaves everyone jaw-dropping.
Garibaldi Park is a strong tourist attraction in Vancouver area. The most popular trail is 9km to Lake Garibaldi with an estimated time of 3 to 3.5 hours per section. Unfortunately we were unable to do it but on our next visit to Vancouver it will be a priority.
Squamish
Squamish is a city just over 1 hour from Vancouver, named after the indigenous people who inhabited the region. In addition to its historical importance because it is home to one of the first communities in Canada, this small town is a paradise for those who enjoy outdoor activities and extreme sports.
One of Squamish's most popular attractions is the cable car, called 'Sea to Sky Gondola'. The cable car literally rises from sea level up to 800m high, at the top of the Stawamus Chief Provincial Park mountain, from where you have a very beautiful view. The website of this location has useful information about the tour.
In addition to the gondola, this Vancouver neighbor reserves more than 10 options for trails, cycling tours, waterfalls, among others.
Other options of activities near Vancouver
As mentioned earlier, our time in Vancouver ended up being short and we missed some places that looked really nice. Our AirBnb hostess told us a lot about Vancouver, North Vancouver and the surrounding area. Below are some of the main recommendations we received:
Lighthouse Park – near Horseshoe Bay, in West Vancouver, a good quick stop option for those on their way to Bowen Island, with a beautiful view of the lighthouse. It is necessary to take a short trail.
Capilano Suspension Bridge – one of the most famous attractions in the Vancouver area, but we found it very expensive and touristic. The main attraction of the place are the suspension bridges in Capilano River Regional Park, where the visitor walks between the tops of the trees. Regular entry prices in 2018 were CAD 46.95. We heard comments that the place is usually quite crowded.
Lynn Canyon Park – on the east side of North Vancouver, is Lynn Canyon Park, with free admission. This park gives access to some scenic trails including the Baden Powell Trail, a 48km trail that crosses parks north of North Vancouver. Lynn Canyon Park also has a suspension bridge, but smaller than the Capilano Suspension Bridge. Still, the park seems to be very beautiful, and I believe it is worth the visit!
Deep Cove – is a quiet neighborhood, on the east end of North Vancouver, where you can practice some activities like kayaking and SUP. The interesting thing about this place is the fact that it is less touristic. A trail takes visitors to the Deep Cove Lookout, a point that gives a beautiful view of the city of Vancouver. A good option for those who like to cycle is to go to Deep Cove by bike from Vancouver or North Vancouver.
Kitsilano Beach – also called Kits Beach. Close to the Vancouver Museum, the beach itself is no big deal, but it's a nice place where many locals play sports, walk their dogs, or walk along SeaWall – an uninterrupted boardwalk that leads to Stanley Park. Kitsilano Beach also has a saltwater pool – the only one in Vancouver. The pool is open in the summer season. A fare around CAD 6.00 is charged to be able to enjoy it.
Qual é o seu sonho de viagem?